Cromer - Sunday Evening Latest
20 August 2017, 18:41 | Updated: 20 August 2017, 19:19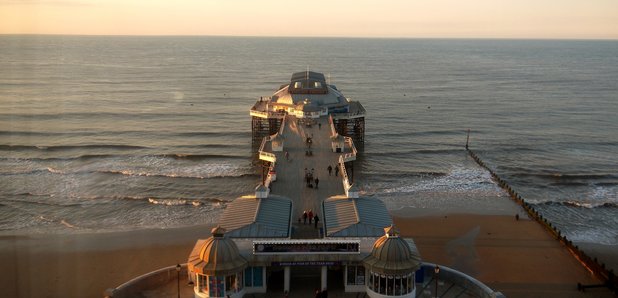 Police patrols are in place after more town pubs have closed early after reports of "low-level disorder" and anti-social behaviour.
Several venues said they had decided not to open yesterday (Saturday 19th), with residents describing the town as in "lockdown" on social media.
Norfolk Police said it increased resources in the town but dismissed reports that someone was stabbed.
North Norfolk Council say they have evicted a travelling community, who'd parked up in the seaside town - after reports of "low-level disorder".
It all began on Friday when Police were called in to five incidents of theft - three from shops and two from local pubs where drinks were taken and not paid for, but police said neither pub wished to take the matter forward.
Other incidents were reported to police, including calls relating to the concern for safety of a group of people standing in the middle of a road, but the group had gone by the time police arrived.
Superintendent Malcolm Cooke said today:
""We are experienced in policing high season demand, normally seen in the county at this time of year. There will always be incidents where the police can engage with the local community and visitors to ensure a safe environment for all.
Yesterday, police identified a slight increase of low-level anti-social behaviour and reports of crimes in the area so have pro-actively adjusted our resourcing levels in order to deal with this.
UNDERSTANDABLE CONCERN
We will continue to have a police presence in the area today to provide reassurance to local residents, businesses and holiday makers.
Local businesses were made aware of a small number of incidents dealt with by officers but no official police direction was given that businesses should close. Any decisions to close would be down to local businesses.
We acknowledge there have been a number of incidents in Cromer over the weekend which will understandably cause concern. However, I can assure residents these incidents have been dealt with appropriately and are of a nature routinely dealt with in towns such as Cromer on a busy August weekend."
On Saturday, Norman Lamb, Liberal Democrat MP for North Norfolk, tweeted: "Very concerned by what I've read online tonight. Of course happy to support people in Cromer in any way I can."
Cromer Pier said it had closed its Theatre Bar, and The Wellington pub tweeted: "We will not be opening our doors tomorrow! Hopefully normal service will resume on Monday!"
The Red Lion Hotel also wrote on Twitter: "Please be aware the Red Lion is closing early this evening due to local events in the past 24 hours."
A rape reported in Cromer on Friday night is not being linked to these incidents.