Fourth Drugs Death Could Be Linked To Suffolk Deaths
2 January 2015, 15:24 | Updated: 2 January 2015, 16:43
Police say a fourth man has died in Telford in Shropshire from taking drugs, which could be linked to the deaths of three men in Suffolk.
A labourer, named locally as 20 year old John Hocking, died after being found seriously unwell in Chestnut Close in Rendlesham at 7.10am yesterday (January 1st). It is believed he was a former student at Thomas Mills High School in Framlingham.
A second man, also in his 20s and originally from Lithuania, died in Provan Court in Ipswich later that morning. Another man from the same address was taken to hospital in a serious condition where he remains.
Police are investigating the deaths and believe they could have been a result of taking a particularly dangerous batch of ecstasy.
Detectives also believe their cases may be linked to another drugs-related death on Christmas Eve - that of a man in his 20s in Bramford Lane in Ipswich.
Officers are looking at potential links to similar deaths elsewhere in the country including in the West Mercia area, where a fourth man has now been found dead. The deaths have been referred to the Suffolk Coroner and inquests will open in due course
The pill (pictured) is a red triangular tablet with a Superman motif.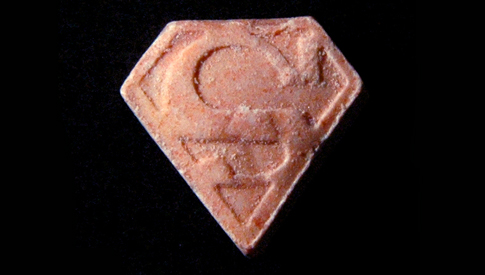 A spokesman for Suffolk Police said this is the first time they have come across pills matching this description and they are drawing a link between these drugs and dangerous pills with a similar appearance which were in circulation in the Netherlands last month.
Those tablets had a large concentration of PMMA, which acts more slowly than MDMA, the main component of ecstasy. This causes people to take more pills because they think they are not working. PMMA can cause high body temperature and an increased heart rate.

Chief Inspector Steve Denham said: "As well as it being illegal to sell and buy drugs, it can also be very dangerous as we have sadly seen with these tragic deaths.
"We would urge everyone not to be tempted to take illegal drugs - you don't know where they have come from, what they are made up of, or how your body will react to them.
"If you have been offered drugs in the Ipswich area over the past few weeks, in particular ecstasy, we'd urge you to contact us with any information so that we can find those responsible and remove these dangerous drugs from the streets."
Ipswich Policing Commander Superintendent Louisa Pepper said the "number one priority" for police is to prevent anyone else from coming to harm. She said: "It's clear that this drug is highly dangerous and we are urging anyone in possession of them not to take them.
"We want these drugs off the streets and not to fall into the wrong hands. To this end, we are asking people to surrender them either to police or to a number of other local agencies in Ipswich.
"Our investigation into these deaths continues and we are pursuing a number of lines of enquiry. In the meantime, we will be stepping up our efforts to warn local communities."
Anyone in possession of the drug is asked to surrender it to police, in person or by calling 101, or at the following local agencies in Ipswich:


CRI, St Matthews Street

MVA Team, 70 – 74 St Helens Street

Fire Service, Princes Street, Ipswich

If you have taken illegal drugs or if you know someone who has become unwell after taking illegal drugs and needs urgent medical care call 999 and ask for the ambulance service.
If you have information about the supply of this or other illegal drugs call Suffolk Police on 101 or pass information anonymously via the Crimestoppers charity on 0800 555 111.
For drugs information and advice visit the Talk To Frank website or call the 24/7 National Drugs Helpline on 0800 77 66 00