East Harling Murder Update
8 August 2017, 18:01 | Updated: 8 August 2017, 18:05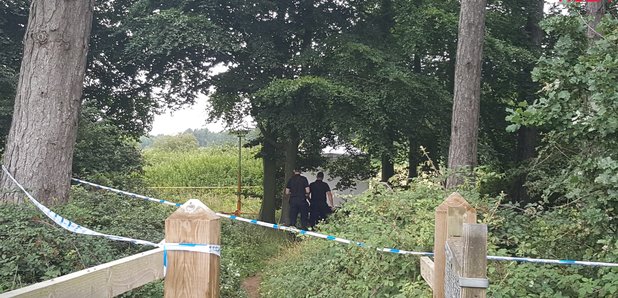 Murder detectives believe a member of the public could hold a "vital clue" in their investigation after an 83-year-old man was stabbed to death while walking his two dogs.
The pensioner, who is described as a family man from Norfolk's East Harling area, was repeatedly stabbed in the neck and head on Saturday morning.

No arrests have been made since his body was found by a member of the public in woodland near the Fiveways Junction.

Speaking at a press conference this afternoon, Chief Superintendent Mike Fawcett urged local residents and businesses withing a five-mile radius of the murder scene to check their bins and gardens for any discarded items, such as bloodstained clothing or a knife.

"We believe that a member of the public could hold a vital clue," he said.

"The residents in East Harling and other local villages know their community better than anyone else and it's these people I really want to appeal to. Have you seen any people or a vehicle which looks out of place?

"At the time it may have seemed insignificant, but please contact my officers and let us decide if it's relevant or not."

He also asked for residents or businesses with CCTV footage from between 9am and 11am on Saturday to preserve it, along with any motorists or cyclists with dash cams or video cameras.

He said the initial call was made to Norfolk Police at 10.45am.

The victim, who he did not name, was described as white, of slim build, 5ft 7ins tall, with grey hair and glasses.

He was wearing blue/grey trousers, a black T-shirt and brown walking boots when he was killed, and was walking his 10-year-old foxhound cross and 13-year-old trailhound cross.

Urging anyone who may have seen him to come forward, Mr Fawcett added the pensioner drove to the walking spot in his red Skoda Fabia car.

Asked if police believe the victim knew his attacker, Mr Fawcett said he did not currently have any information to suggest this.

He also sought to reassure residents, adding: "I fully understand that residents will be shocked and concerned that a murder with this level of brutality can happen to an elderly man going about his daily business in our county."

Uniformed officers and a mobile police station have been set up at the scene while local police patrols have been increased.

A post-mortem examination found the man died from multiple stab wounds to the neck and head.

Heart spoke to people living in the village.

A dog walker in the area who wished to remain anonymous said: "We don't expect it in any village, let alone in our little village where everybody gets on with everybody."

A man working at a local business described the atmosphere in the village since Saturday. He said: "I've lived here 27 years now and there's never been anything like it. Everybody just seems a little bit on edge and not themselves really. Everybody's just looking around and there's police cars going through every five minutes."