East Harling Murder: Witness Appeal
10 August 2017, 17:38 | Updated: 10 August 2017, 18:02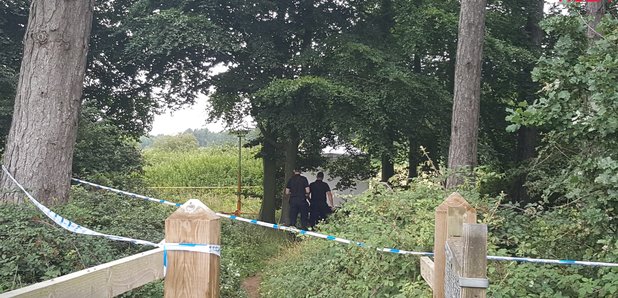 Murder detectives investigating the death of an 83-year-old man fatally stabbed while walking his two dogs have released descriptions of three potential witnesses who they are keen to trace.
Peter Wrighton, from The Moor, Banham, Norfolk was repeatedly stabbed in the neck and head and his body was found in woodland near the village of East Harling on Saturday morning.

There have been no arrests, and no weapon has been found.

Detective Superintendent Andy Smith, who is overseeing the investigation, said: "This, as you will appreciate is a large-scale, complex and detailed investigation which involves a number of strands.

"Our main lines of inquiry include forensic investigations, extensive searches, witness interviews, house-to-house inquiries, CCTV capture and review and close liaison, as you'd understand, with Peter's family and our thoughts are with Peter's family at this difficult time."

Speaking at a press conference at Norfolk Police's headquarters today, DS Smith appealed to people who may have been in the Harling Woods area.

"We need to speak to anyone who has recently visited and/or frequents the area where Peter's body was found," he said.

"This could include dog walkers, runners and ramblers.

"We want to talk to you if you have seen Peter walk his dogs in that area or nearby in recent months or weeks but in particular on the day Peter's body was found, Saturday August 5."

He said officers were appealing specifically to three men who police are yet to trace as potential witnesses.

The first is described as a slim white male over 50, with pale skin and grey or white hair and balding on top.

He was believed to be wearing heavy-rimmed glasses and light-coloured trousers, and was seen in The Street changing into a white t-shirt.

The second potential witness is a white male with a tanned complexion, aged 25 to 30, 5ft 9in to 5ft 11in, with an athletic build, short, dark wavy hair and dark eyes.

He wore a grey or blue t-shirt, grey floppy gym-style shorts above the knee and heavy duty flip flops, and was seen within the boundary of the woodland site which police are searching.

The third man is described as a white male, aged 30 to 50, of medium build, who wore dark-coloured clothing and was seen walking without a dog in the northern area of the heath.

"These are descriptions of people that we believe were in the area, not necessarily together but we're keen to trace them as part of our ongoing appeal to trace witnesses in the relevant area at the relevant time," said DS Smith.

He said officers were working with National Crime Agency experts on the investigation.

"We want to help Peter's family and the people in the local area to understand what happened," he said. "This is a particularly brutal murder.

"To do this we need to piece together Peter's final movements so that we can understand what happened to him and why.

"This means we want to hear from you if you know something or you know someone who has information but who is for whatever reason reluctant to come forward themselves."

An inquest into Mr Wrighton's death has been opened and adjourned, and the medical cause of death was recorded as "incised wounds to the neck".