Firearm Dealer Jailed In Illegal Weapons Hoard Case
19 February 2016, 10:29 | Updated: 19 February 2016, 10:32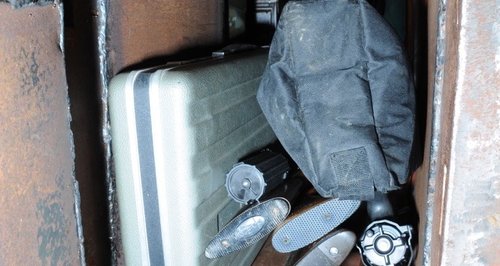 A Norfolk firearms dealer who helped supply the biggest hoard of illegal weapons ever uncovered in the UK has been jailed for six years.
Police found 463 illegal firearms, including rifles, machine guns and an anti-tank missile, along with 200,000 rounds of ammunition in a secret room at the home of crane operator and parish council chairman James Arnold, 49, in the village of Wyverstone, Suffolk.
Arnold died of cancer before he could face prosecution but gunsmith and firearms dealer Anthony Buckland, 65, of Stoke Holy Cross, Norfolk, who supplied a small number of the weapons, faced a trial late last year.
He was found guilty of 11 counts of selling a prohibited weapon and nine counts of fraud at Norwich Crown Court.
Jailing him on Friday, Judge Stephen Holt said: "When the police searched Jim Arnold's home they found a vast collection in a secret room which could only be accessed by crawling through a safe.
"But you are to be sentenced for what the jury convicted you of and not the vast collection of firearms that Mr Arnold had.
"In your profession a great deal of trust had been placed in you and it is quite clear you abused that trust.''
Buckland, who the court head has serious health problems, shook uncontrollably as sentence was passed.
Afterwards Suffolk Police spoke of the potentially devastating consequences had Arnold's life spiralled out of control or if the haul - enough to arm nine coachloads of terrorists - had fallen into the wrong hands.
Detective Superintendent Steve Mattin said: "Of course the fear was that they could fall into the wrong hands or, given that he had terminal cancer, something might change in his life and he would have access to hundreds of deadly weapons.''
Police originally called at Arnold's home in April 2014 to revoke his legally held firearms after reports of a domestic incident.
A search then uncovered a hidden room, accessed through a narrow tunnel hidden behind a false wall in his pantry.
Officers spent 27 days searching the house, working meticulously with bomb disposal experts to ensure the house was not booby trapped.
Three months after the discovery and his arrest in April 2014, Arnold died of pancreatic cancer.
Buckland was only prosecuted for supplying one of the weapons but Suffolk Police said a total of 16 firearms supplied by him were found at Arnold's house.
Michael Claire, mitigating for Buckland, said: "He cannot be responsible for Mr Arnold's collection and whatever else Mr Arnold had is a matter between him and the police.''
Many of the weapons he supplied to Arnold and other customers had been illegal firearms which he thought he had converted to make legal, he added.
"He stands before Your Honour as an utterly broken man,'' Mr Claire added.
"He is broken financially, he has lost his reputation and his lifelong association with firearms is over.
"He will never deal in firearms again, he will never handle firearms again - and he doesn't want to.''