Hundreds Attend Funeral Of Ipswich Teen
4 July 2018, 16:36 | Updated: 4 July 2018, 16:40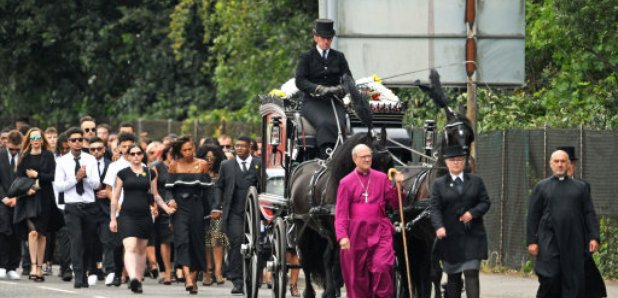 Hundreds of people have turned out to the funeral of a teenager who was stabbed to death in Ipswich as he walked back from the shops.
17 year old Tavis Spencer-Aitkens was attacked on June 2nd.

Two men are due to appear before Ipswich Crown Court later this month charged with his murder.

So many people attended his funeral today, that speakers were set up outside St Augustine's Church in Ipswich so people who could not fit inside the venue could hear the service.

Many of the young people there wore t-shirts bearing Tavis's nickname, "Biggz", which was also spelt out in flowers on top of the hearse.

His mother Sharon Box and twin brother Tyler were among those who walked with the cortege, with a horse-drawn carriage carrying his coffin.

This was followed by three black limousines and hundreds of people on foot.

In a tribute read to the service, his mother said: "Nobody knows what waits around the corner and I would like to say to each other and every one of you here today, love your children, love each other, just like I love my boys, family and friends."

She also said her "beautiful" son had been looking forward to going on holiday in Jamaica next year for his and Tyler's 18th birthday.

Songs by Bob Marley and Stormzy were played at the service, and tributes were read from Tavis's father Neville Aitkens, cousin Janaya McLennan and "soulmate" Shannon Green.