Inquest Into Deaths In Norwich Explosion Opens
10 July 2017, 15:58 | Updated: 10 July 2017, 16:21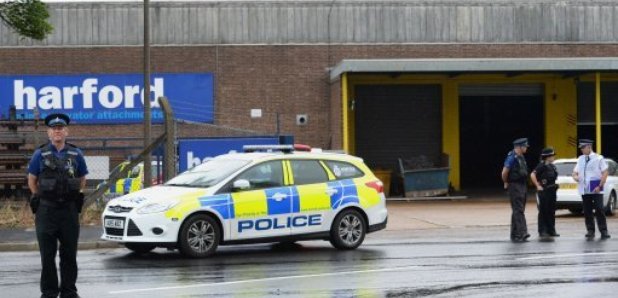 The inquest into the deaths of two industrial workers who were killed after an explosion in Norwich two years ago opened this morning.
It heard today that one of the men killed was filling in for his father who was ill that day.

Production operative Daniel Timbers, 28, was helping paint sprayer Barry Joy, 56, at the time of a blast and ``fierce fire'' in the paint spray booth they were working in, Norfolk Coroner's Court in Norwich was told.

The two workers, who were employees at Norwich-based digger bucket manufacturer Harford Attachments, both died and had to be identified from dental records after the blast on July 13 2015.

Norfolk area coroner Yvonne Blake said that Mr Timbers was standing in for his father Nick in the paint spray booth as his father was ill that day.

Ms Blake said that at around 9am, staff heard a ``loud noise'' and a fire began in the booth.

``Staff evacuated the premises, with some of them bravely trying to rescue Mr Timbers and Mr Joy,'' she said. ``Their bodies were recovered from the booth afterwards.''

The booth was bought from RAF Lyneham in Wiltshire when the base was being closed down, Monday's inquest hearing was told.

It was one of two booths that had been used to spray RAF Hercules aircraft, and was dismantled, moved and reassembled at the factory.

Sub-contractor Leighton Wing, who dismantled the booths, said they had been in use since the 1980s.

Kenneth Stedman, managing director of Ipswich-based Industrial Powder and Paint Services, advised Harford Attachments on the transaction.

He said the units were ``well-kept for their age'' and advised the company that the booths would be suitable to be set up as they were on the airbase.

Post-mortem examinations recorded that Mr Joy, of Spencer Street, Norwich, and Mr Timbers, of Dereham Road, Norwich, both died as a result of the effects of fire and inhalation of fumes of combustion.

Ms Blake said the jury inquest, which is listed for 10 days, would hear evidence about training of staff, policies on site, and extraction equipment on the paint spray booths.

RAF Lyneham had been the home of the Hercules transport aircraft.

It closed in 2012 with the majority of its personnel and assets relocated to RAF Brize Norton in Oxfordshire.

The inquest continues and is expected to last for 10 days.