Man Convicted Of Norwich Hammer Murder Jailed For Life
21 September 2018, 13:28 | Updated: 21 September 2018, 13:33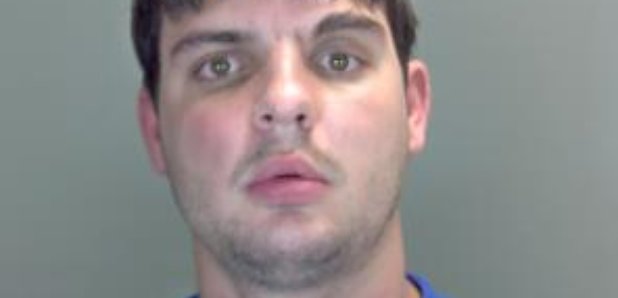 A man convicted of murdering a woman in Norwich has today been sentenced to life imprisonment to serve a minimum of 24 years.
The sentencing, held at Norwich Crown Court, follows a eight-day trial, which ended yesterday, when a jury took just three hours to find 27-year-old Danny Williams guilty of the murder of Farnaz Ali.

The 49-year-old, described as being peaceful, caring, and compassionate, died after she was subjected to a sustained assault involving a hammer by Williams in his flat at Godric Place on Friday 28 July 2017.

The trial heard Farnaz had gone out for a walk around 7pm after complaining about noise coming from Williams' flat. When she failed to return home from her walk a few hours later, she was reported missing by her partner. Officers attended and enquiries were carried out into her disappearance.

Around 8pm, Williams took a taxi from his address to a flat in Windsor Road in Lowestoft where he spent the night. During the evening he disclosed to others that he'd murdered a woman and that her body was still in the bathroom of his flat. The court also heard how during the evening a fire was lit in the rear garden of the address where an attempt was made to burn a bag which Williams had brought with him to the Lowestoft address. The bag contained various blood stained items including clothing and a piece of carpet, which he had cut from his living room at Godric Place.
Later that evening Williams and two others friends drove to the Denes Oval area of Lowestoft, where he disposed of a hammer. This was later recovered by police and was believed to have been used in the attack on Ms Ali.

At around 2.30pm the following day (Saturday 29 July 2017) one of these friends became so concerned he reported what Williams had both said and done to the police.

Shortly afterwards at around 2.45pm Norfolk Police received a further call reporting a concern for the safety of a woman at flats in Godric Place. Officers subsequently forced entry to the address where the body of Ms Ali was discovered on the bathroom floor.

Williams was arrested half an hour later at 3pm along with a 20-year-old woman and a 41-year-old man and all three were taken into custody for questioning.

Williams was charged two days later with murder and was remanded in custody. The man and woman were released without charge.

A/Detective Inspector Neil Stewart, who led the investigation, said: "Farnaz Ali was the victim of a senseless, brutal act of violence at the hands of Danny Williams. During the trial the court has heard Ms Ali described as a peaceful, caring, and compassionate woman who saw the best in everybody. My immediate thoughts are for Farnaz's loved ones who have sat in court over the last few weeks and have had to endure listening to the awful details of her death. Nonetheless, they have done so with great dignity and whilst today they have seen justice, nothing can make up for the pain and anguish Williams has caused them and I can only hope that today's sentencing allows them to fully grieve and process their loss."
Ali Family Impact Statement
I am Dr Mahnaz Ali, sister of Farnaz Ali.
Farnaz's murder has been a horrific experience for me and my family. The trauma of learning about
how she suffered alone before she died will be with me always. Her death has aged my parents to
the point where they now need to move to sheltered accommodation. I have had to temporarily
stop working as a GP and I am having to carry the burden for Farnaz's partner, Oliver, who has been
unable to attend the trial.
No one expects to have to identify their sister's body. In fact, due to the effects of the injuries she
sustained, I didn't initially recognise her and had to view her twice to be sure it was her. I knew she
had severe head injuries, but I could also see that she had been strangled. Due to the ongoing
investigation I was not given all the details and spent over a year wondering exactly how she died.
It's only now – at the trial – that I have learned about the horrific number of injuries Farnaz received,
her prolonged suffering, and the sexual and racial elements of her killing.
I had to travel to be with my elderly and frail parents when the police visited them at their home. In
order to protect my parents we did not, and have still not, revealed the full details of her death to
them. My parents are in their late 70s and mid 80s. They were immediately traumatised, and have
not recovered. My mother was unable to attend Farnaz's burial and has been in and out of hospital
several times since. She is now very depressed and appears to have given up on life.
My parents were unable to attend the trial due to their health and I would not have wanted them to
be exposed to all the details surrounding their daughter's death. I do not think they will ever recover
from the loss of their daughter.
I have suffered a significant amount of grief and stress and this has had an impact on every aspect of
my life including my health and career, my family and social life.
I've had to take a career break as I felt unable to continue in my medical role whilst supporting and
addressing my parents' physical, mental and social needs following the death of Farnaz.
The funeral was delayed until November 2017, and I had to organise it mostly alone. My parents
and Oliver were paralysed with grief at the time.
The two postponements of the trial have been very stressful. It's hard enough to prepare yourself
for something like this, only to be told that it's been postponed.
I am still measuring the scale of my loss. Farnaz was my only sibling and we have no other close
relatives. She will not be with us for Christmases, birthdays and other special occasions.
I would like to thank the police and CPS for the effort that they have put into ensuring that justice
has been done. This has given me comfort, knowing that Farnaz's life was seen to be important.
Farnaz, my sister, was a quiet, gentle, thoughtful person who suffered a prolonged attack and then
died alone in the bathroom of a stranger's house and this knowledge will stay with me forever