Man From Gorleston "Lucky To Be Alive"
14 October 2014, 06:00 | Updated: 14 October 2014, 06:36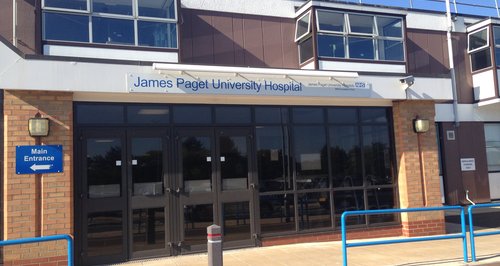 A man from Gorleston has exclusively been telling Heart he feels lucky to be alive, after a catalogue of errors over his cancer diagnosis.
Four years ago, doctors at the James Paget Hospital told John Cooper he had the disease; devastating news exacerbated by the shock detail it was for the second time.
John claims he was never told of his previous diagnosis.
The-48-year-old originally attended the hospital in 2004 with a lump in his testicle.
He had an operation to remove it and has told Heart the consultant said it was not cancerous, it was gristle and everything was normal.
However, in 2010, Mr Cooper returned to the hospital with pain in his bowels.
It was then that he was told the original growth had in fact been cancerous, and that he had been diagnosed with testicular cancer in 2004, something he says he was not aware of.
The consultant added Mr Cooper should have received chemotherapy and checks for a further ten years.
He told Heart: "I thought I was dead. I thought that was it, because you always think cancer and the worst case scenario. I have been very lucky, unlike some people unfortunately."
Mr Cooper eventually had his gall bladder removed and has now been given the all clear, but he is calling for a full investigation into what happened, and why he was not informed about the disease ten years ago.
He said: "If somebody has made a mistake - fine, but I need an admission on their side so I can finally put this to bed. I want them to do a full investigation, which they clearly haven't."
He says his main concerns were that the cancerous polyp removed in 2010 could have been as a result of not receiving treatment when he should have in 2004.
He added: "How serious does a mistake have to be for someone to take it seriously and to investigate it seriously, which they haven't done?"
Mr Cooper met with staff at the James Paget in May 2012, to discuss and raise his issues. Among the concerns raised, it was confirmed that Mr Cooper should have been considered for follow up and the possibility of treatment should have been discussed with him.
Dr Brett also stated that the trust needed "to reflect on the confusion with the references to the polyps in the correspondence from the trust" and that 'as Mr Cooper has stated, one letter said he had cancer, another letter said he did not have cancer".
One of the consultants who dealt with Mr Cooper has since retired from the Trust, and therefore was not available to comment on the case.
Associate Director of Governance, Safety and Compliance for the James Paget Anna Hills said: "We are very sorry that Mr Cooper is unhappy and that our responses to him so far have not been able to overcome his concerns.
"However, if Mr Cooper would like to re-contact the Trust via PALS (Patient Advice and Liaison Services) then we would welcome a further opportunity to address the issues he has raised."