Man Jailed For Trying To Smuggle 22 People Into UK
13 July 2017, 12:23 | Updated: 13 July 2017, 12:26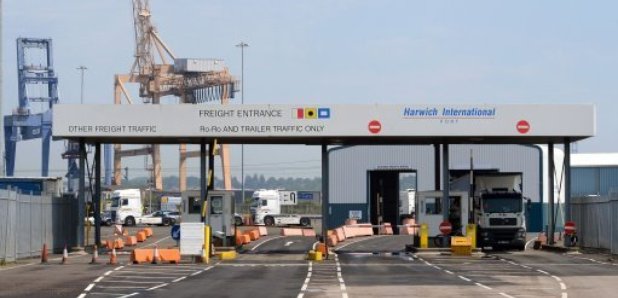 A man who admitted trying to smuggle 22 Afghan nationals, including a seven-year-old child, into the UK in the back of his lorry has been jailed for 3 years and 8 months.
Polish lorry driver Tomasz Cierniak, 32, was stopped by Border Force officers after his vehicle arrived at Harwich International Port on a ferry from the Hook of Holland.

Cierniak told officers that he was carrying electronic goods to deliver to John Lewis in Milton Keynes. When the lorry's rear doors were opened, officers found washing machines and tumble dryers stacked three high and four across.

Officers searched the vehicle and found 22 people, including a seven-year-old, a 14-year-old and two 17-year-olds, in a purposely created gap between the heavily loaded rear and the front of the trailer during the stop on February 2 last year.

Cierniak, of no fixed UK address, admitted facilitating a breach of the UK's immigration laws at an earlier hearing and was sentenced at Chelmsford Crown Court on Thursday.

Judge Emma Peters told Cierniak: ``There are many people in this sad and difficult world in which we live who want desperately to come into the UK.

``You only have to watch the news to see how desperate these people are and the dreadful conditions in which they're willing to reduce themselves to get here.

``Those who play any part in exploiting that desperation should expect to be treated severely by the courts.''

The court heard Cierniak, who was not the organiser, undertook the job for 650 Polish Zlotys (#135) as he wanted to support his pregnant wife.

Judge Peters said: ``What a tragedy that you say you were doing this for money for your family, but the effect of that is you're going to miss the birth of your first child and birthdays thereafter.''

Charlotte Davison, prosecuting, said a sniffer dog at the Hook of Holland indicated that people may be on the lorry, but the ferry was allowed to continue as it was due to depart and UK authorities were notified.

She said officers in the UK noted the lorry falsely carried the livery of a genuine logistics firm and that false paperwork said the electronic goods were picked up from the firm's head office, instead of providing its warehouse address.

Ms Davison said Cierniak claimed he was due to make a delivery to John Lewis in Milton Keynes, but the store said this was not the case.

She added that the lorry had made a ``dry run'' to the UK a fortnight earlier.

Ania Grudzinska, mitigating, said: ``Mr Cierniak was simply the driver and was instructed to go from point A to point B.

``He was not involved in the organisation of this operation.''

Cierniak claimed the organiser was the woman he hired the lorry from. The court heard he skipped bail after his initial arrest, fearing he would be ``punished by his employer'' if he was not at work.

He was arrested in Italy after a European Arrest Warrant was issued.

Cierniak, who said he was aware illegal immigrants were in the lorry but had nothing to do with loading them, appeared tearful as he was led to the cells.

Judge Peters also ordered the forfeiture of the lorry.