Matt Hancock reveals he is dyslexic
3 October 2018, 07:38 | Updated: 3 October 2018, 07:41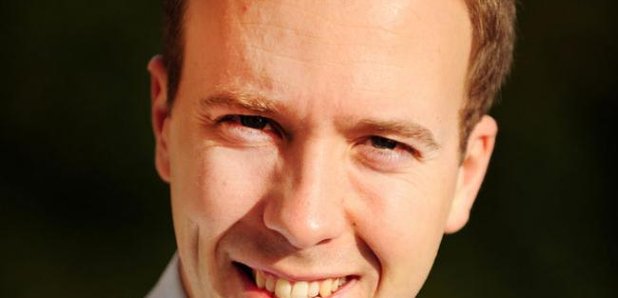 The MP for West Suffolk has revealed he is dyslexic and believes his career would have been held back without the help of technology.
Matt Hancock, who's also the Health Secretary, said he found out he had the common learning difficulty while at university, after a tutor noticed his struggle to get ideas down on paper.
He admitted he felt uncomfortable speaking about the issue because he feared rival politicians might view it as a sign of weakness and "people might look down on me because of it".
But at a Tory party conference fringe event he said: "The message to anybody who is dyslexic is that you can achieve whatever you want to and, whilst it may make it harder to do some things, it makes you better in other ways.
"The research shows that people who are dyslexic make lateral connections more often.
"In politics those human and lateral connections are often more valuable."
At the Times Red Box fringe event in Birmingham he added that while he could not read as well as others, "I can remember details and numbers".
But he admitted dyslexia had caused him problems - including an error in the 2001 election.
Campaigning in the Guildford seat he highlighted the phrase "I want to unite the community" in the candidate Nick St Aubyn's election leaflet.
"It was only after I had sent it to the printers, and only after they had sent it to the Royal Mail and only after it had landed in 50,000 letterboxes in Guildford that I spotted that I had written, 'I want to untie the community'."
The Tory candidate went on to lose Guildford by 538 votes.
In a separate interview with Alastair Campbell for the GQ November issue, Mr Hancock described technology as "an enormous enabler".
Mr Hancock told the magazine: "I think if Microsoft had invented spellcheck five years later it would have had a massive negative impact on my career.
"By the time I got to the workplace, everything was done on word processors and that solved my very serious spelling problem."
Mr Hancock said he still considers himself a "very slow reader".
He added: "I have to have things written in a pithy way. Upside is, I write in a pithy way as well."