Motorcyclist Deaths Fall In Norfolk
19 April 2018, 06:35 | Updated: 19 April 2018, 06:38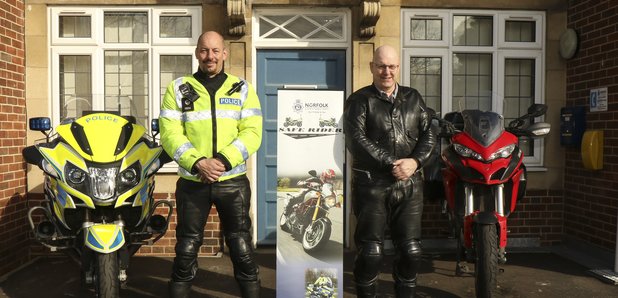 A police campaign to keep motorcyclists safe in Norfolk is marking its 20th anniversary.
The Safe Rider course was launched in 1998 - when 17 motorcyclists were killed on Norfolk's roads and a further 139 were seriously injured. In contrast, in 2017, six motorcyclists lost their lives as result of collisions in Norfolk, and 101 were seriously injured.
Despite these reductions in the number of motorcyclists killed and seriously injured (KSI) on Norfolk's roads, motorcyclists still represent a big proportion of all KSI casualties. In fact in the last five years between 2013 and 2017 riders represented 26% of all KSI casualties so safety training is still very important.
More than 3,000 people have attended a Safe Rider course, which aims to reduce the number of motorcycle casualties across the county by educating riders on how to become better, safer riders.
The workshops, which comprise of a two-and-a-half hour evening session and a five hour road session, run from April to October, the months when it is considered more motorcyclists take to the roads in the warmer weather.
The workshops are aimed at all fully qualified riders (either full A or A2 categories) who want to improve their skills to become better and safer riders.
Chief Inspector Kris Barnard, head of the Norfolk and Suffolk Roads Policing Unit, said:"Reducing the number of people who are killed or seriously injured on the county's roads remains a priority for us and sadly the statistics speak for themselves that each year a high percentage of those killed on our roads are motorcyclists.
"The underlying message of the workshops is that education is key, not enforcement.
"The workshops give motorcyclists greater awareness of the hazards they may face when out and about to help them become better and safer riders."