Newmarket: Olympian Retires With Mixed Emotions
3 May 2017, 17:28 | Updated: 3 May 2017, 17:33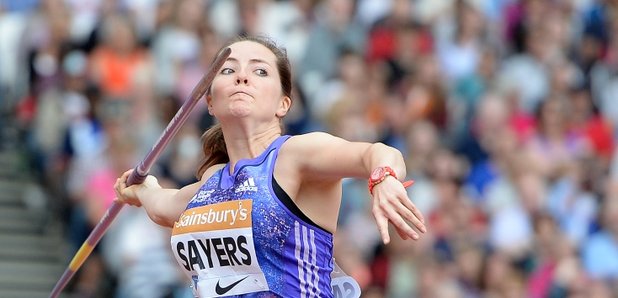 Newmarket Javelin Olympic competitor Goldie Sayers had held off her retirement as she waited to receive her Olympic bronze medal, but must continue to be patient after ending her career.
The 34 year-old announced her retirement today, after a 20 year career which included the British record, 11 British titles and three Olympics.
Sayers finished fourth at the Beijing Olympics in 2008. But re-testing of anti-doping samples, uncovering a doping violation by Russia's Mariya Abakumova, saw her elevated to third last year.
"I just held off announcing I was retiring, partly waiting for the medal, but also just to check I didn't get any pangs wanting to keep competing," Sayers said.
"It's just a question of waiting. It's a lengthy process. I have waited eight years, so I can wait a few more if I have to."
Great Britain's track and field athletes finished one short of their five medal target at the Beijing Games, but now have eight after four were retrospectively stripped from competitors.
Sayers discovered she was to be upgraded to bronze in May 2016 while driving to meet her mother, Liz, for coffee at a Newmarket supermaket.
Barbora Spotakova of the Czech Republic won gold, Abakumova silver and Germany's Christina Obergfoll bronze.
Kelly Sotherton was last month upgraded to heptathlon bronze at Beijing 2008, but said she would decline a "dirty medal".
Sayers does not have those reservations, because she would receive Obergfoll's bronze.
Sayers added:
"I would actually be getting the German athlete's bronze medal. I'm quite happy with that. We're friends. She told me last year she's got it. I could just go to Berlin and pick it up."
Sayers' bid to improve on her placing at London 2012 was wrecked by injury and she missed out on a place at the Rio Olympics.
She added: "Last year was tough. I fell off a box in 2010, tore the meniscus in my knee and it's the knee that I pivot on, land and rotate at speed on.
I had three surgeries on it and I got to the point where I had to start thinking about my health post athletics.
And I just wasn't able to produce the performances I wanted to. It was quite an easy decision at the end of last year.
At the moment I haven't had (those pangs). I'm enjoying a healthy body and being able to train and do everything I want to do and not be in fear of having another operation."
Sayers' first Olympics was Athens 2004 and she also competed at five World Championships and three Commonwealth Games.
She plans to use her experience as a javelin coach and in an administrative role.
The British Olympic Association has announced Sayers as Team GB's deputy chef de mission for the Gyor 2017 European Youth Olympic Festival.
British Athletics performance director Neil Black said:
"Goldie's javelin career has been inspirational.
She is up there with the all-time greats of British throwing. She first broke the British junior javelin record in 2001 and continued to break British records throughout her career.
Whilst today marks the end of Goldie's involvement in athletics as a competitor, I am glad she intends to remain active within the sport .
Hopefully, at some point in the very near future, Goldie will be awarded the Olympic bronze medal she rightly deserves from Beijing, which will top off a fantastic athletics career."