No Parade For Norwich City Fans
26 May 2015, 17:21 | Updated: 26 May 2015, 17:22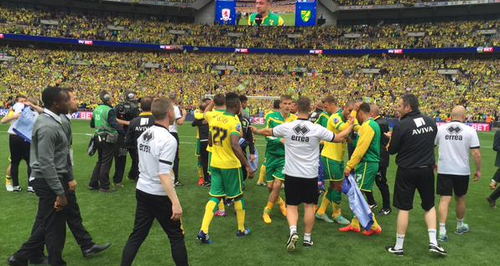 A music festival in Norwich and players going on holiday's been blamed for a fall-through in plans to put on a promotion parade through the city.
Heart's learned resources at the council are 'too stretched' after this weekend's music festival to run anything on the scale of a parade until Thursday.
Added to that has been the efforts of the police over the weekend with managing the play-off final.
So they offered the club a bus parade through Norwich after Thursday.
Unfortunately for the fans, some of the Canaries players will be on holiday then, and others start their international duties.
Norwich's CEO David McNally said a shortened summer break for the players has ruled out a civic reception.

He said: "Yesterday was certainly one of the best days in our history.
I'm thrilled for the fans - those fans that backed us when we were League One and 25,000 still turned up at Carrow Road. Yesterday was for them, as well as the players who, when it mattered most, delivered on the biggest stage at three o'clock yesterday.

"But as far as a parade is concerned we're beaten on time I'm afraid.
The City Council were fantastic in inviting us to enjoy a civic parade, but unfortunately time won't allow it – the players and staff need to go on holiday and several of them are representing their countries on international duty."

"Their season end has been delayed by four weeks, which means that they have a shorter summer anyhow.
And, quite frankly, there's no point having a parade without all of the footballers and staff present."