Norfolk Man Dies In Cambridgeshire Bus Crash
26 June 2018, 14:46 | Updated: 26 June 2018, 17:31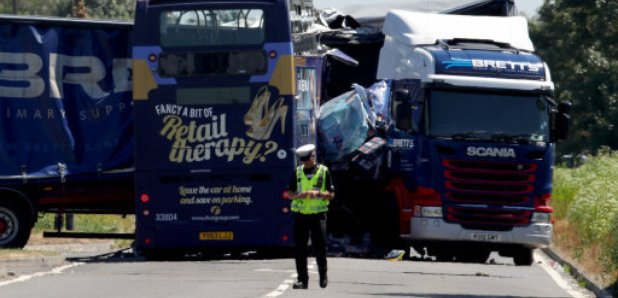 A man from Norfolk is one of two men who have died in a serious crash in Cambridgeshire.
He was the driver of a double-decker bus, that collided with a lorry on the A47 this morning.
The road is one of the main routes into and out of Norfolk.
He was in his 50's and died at the scene. The other man who was killed was from Northamptonshire and in his 70's.
Five others have been seriously injured.
Inspector Langwith from Cambridgeshire Police said "What we do know is that they have a coming together where the HGV has pulled out of the yard and the bus has collided into the side of it."

He confirmed the lorry driver had escaped injury.

Around a three-mile stretch of the A47 was closed following the collision and police said it would remain so until at least the early evening.

Footage from the aftermath at the scene showed the bus, which had been travelling eastbound on the road, lodged into the side of the lorry, which appears to have been heading westbound.

Steve Wickers, managing director at First Eastern Counties bus company, confirmed a driver based at their King's Lynn depot had died and said he was "shocked and saddened" by the incident.

He said: "Our thoughts are with the families of the deceased and we will be providing as much support to them as we can through this difficult time.

"We will now be working with the police while they undertake their investigations."

The crash, involving a Bretts Transport lorry, happened near the firm's distribution centre at Thorney Road in Guyhirn.

A spokesman for Bretts said: "We acknowledge there has been an incident on the A47 this morning involving one of our vehicles just outside our premises.

"At this stage we are giving the emergency services our full support and co-operation."

Those injured were taken to Peterborough City Hospital and the Queen Elizabeth Hospital in King's Lynn.