Norwich Castle Offer Exhibitions For Adoption
22 September 2017, 07:46 | Updated: 22 September 2017, 08:06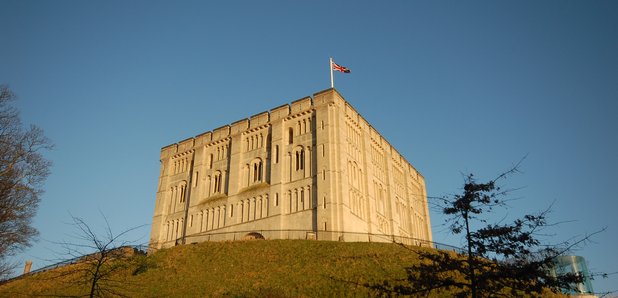 Stephen Fry has become the first person to sign up to a new appeal to raise funds for the Keep Giving campaign to transform Norwich Castle's iconic Keep.
Stephen, who grew up in Norfolk and still has strong links to the county, has adopted the beautiful Bigod Arch – the original entrance to the Norman Keep – as part of the Castle's Adopt an Object scheme which launches on Saturday 16th September: www.adoptanobject.co.uk.
The Adopt an Object scheme – known as Keep Adopting – is a first for Norfolk Museums Service. It will enable members of the public to adopt one of the fabulous medieval objects which will go on display in a new medieval gallery, which is being designed in partnership with the British Museum, to be situated within the majestic surroundings of the transformed Castle Keep.

Ranging from a precious gold ring to a knight's sword, each object has its own fascinating story. Adopters can enjoy a range of exclusive benefits including a chance to visit 'their' object for free, an adoption certificate, an invitation to an exclusive event at the Castle and more.

Angela Riley, Project Manager for the Gateway to Medieval England Project, said: "We're really excited to be launching this new way of getting involved in this important project. There are so many fascinating objects to choose from, and with different levels of adoption from £25 to £500 there are options for every budget. We think adopting an object would make a lovely gift to mark a birthday or special occasion and for real history buffs the higher levels provide a one-off chance to get involved in the conservation and display of a special piece of history. The aim of the whole Keep Giving campaign is to provide people with a sense of ownership in the Gateway to Medieval England project – by adopting one of our objects we hope people build a very special relationship with us and follow progress of the project through to its completion in 2020."

Keep Adopting is just one part of the overall Keep Giving public fundraising campaign which got off to a 'storming Norman' start last Saturday, 9th September when 2385 visitors enjoyed a free day at the Castle courtesy of Heritage Open Days. More than £3000 has already been raised towards the Keep Giving campaign target of £50,000 to help transform Norwich Castle's iconic Keep back to its original form – including the Great Hall and palatial residence of Norman Kings.

But this will be a palace for everyone. Reinstating the original medieval floor levels will make the Keep fully accessible to all. New displays and events will immerse visitors in the sights and sounds of the Castle's royal heyday. Rare objects will also reveal fascinating stories of medieval life beyond the Castle's walls.

The result will bring to life one of Europe's most important 12th century buildings at the heart of one of its most complete medieval cities.

The £50,000 the Keep Giving campaign aims to raise will help in developing new events and schools programmes, conserving important historical artefacts as well as creating dynamic displays to engage all ages – ensuring Norwich Castle 'keeps' on giving and inspiring generations to come. So far over 90% of £13.5m needed for this exciting project has been raised through local and national grant-giving organisations, including generous support of £9.2m from the National Lottery through the Heritage Lottery Fund.

Stephen Fry is someone who has always found the Castle inspiring. As well as being the first to adopt an object, Stephen has also agreed to be the first Patron of the Gateway to Medieval England project. A regular visitor to the Castle, Stephen was asked what the Castle meant to him and why people may like to support this campaign.

"Norwich Castle looms over my memory much as it looms over the city of Norwich – grand, imposing, amazingly pristine, but a friendly landmark too – something that brings a smile and a sense of assurance and welcome familiarity. There is nothing wrong with citizens feeling a little pride in how important a city Norwich has been over the years. But the Castle and its stupendous keep, while great to explore as heritage are so much more than that. Many local people seem to be unaware that Norwich Castle houses one of the great museums in the land. I used to spend hours there – goggling with wonder at not only the ancient and medieval artefacts, but at paintings, costume, and a most scintillating array of precious and decorative objects that made me positively drool over the glass cases. It's just one more reason to be proud of Norwich...," he said.

Cllr. John Ward, Chairman of Norfolk County Council and Chair of both the Norfolk Museums Development Foundation and the Norfolk Joint Museums Committee said: "We are very excited about the Keep Giving campaign and the launch of the Adopt an Object scheme. The money will go towards securing the future of this important historic monument and ensuring that it is interpreted in an engaging and exciting way, which meets visitor expectations and makes the building fully accessible, physically and intellectually, for the first time in its 900-year history. This is a unique chance for the people of Norwich and Norfolk to get involved in a once-in-a-generation project which will hugely raise the profile of Norwich Castle and become a big draw for visitors across the country and beyond."

As well as the Keep Adopting scheme, there are many other ways you can get involved in the Keep Giving campaign, by making a donation, buying a Keep Sake from the shop, or rolling a coin and making a wish in the Castle well.

The Gateway to Medieval England project will transform Norwich Castle's Keep from battlements to basement, ensuring for the first time in its 900-year history all five levels of the Castle's magnificent Keep will be accessible. Visitors will be able to:

• Explore the Keep roof to see unrivalled panoramic views of the City from the battlements.

• Climb the spiral stone stairs to a walkway built high into the walls and enjoy spectacular views over the King's Chamber and Great Hall from the Fighting Gallery.

• Follow in the footsteps of Norman kings and experience life in a royal palace with lavishly decorated recreated rooms, by entering through the Bigod Tower and entering The Great Hall.

• Discover internationally important medieval objects next to finds excavated from Norfolk's soil in a beautiful new medieval gallery created in partnership with the British Museum.

• See the original mighty pillar bases that once supported the principal floor, and enjoy inspiring activities with live demonstrations and digital experiences in the basement.

This is your chance to become part of this epic story – for now, for Norwich and for future generations.

Among the objects available for adoption are:

Medieval Altar Piece. This beautifully carved wooden panel is being carefully conserved to reveal the original 500-year-old paintwork underneath later Victorian layers. The Virgin Mary and the Christ Child are flanked by two saints by fine columns and trace-work arcading. A saints' calendar from 1503 is attached to the side of the piece. A unique gift for anyone interested in ecclesiastical history, theology or historic restoration. The adopter of this item will also get to visit the museum and observe some of the conservation work itself! Adoption level: Gold £500.

Fastolf Sword. Let them know they are a legend! This sword is believed to have been associated with local legend and famous knight of Caister-on-Sea, Sir John Fastolf. Fastolf died in 1459 but his legend lives on in Shakespeare's plays and even in today's computer games including the 'Age of Empires' series. What better way to let someone in your life know they are a legend? Adoption level: Silver £25.

Helmingham Breviary Manuscript. A one-off, intricate piece of ecclesiastical history from Norwich itself. This masterpiece has 205 pages of prayers and passages used in the Roman Catholic Church's daily services. It was probably used in St Leonard's Priory at Mousehold Heath, Norwich, from 1420, and was illuminated with gold leaf and blue, red and black ink. The Tollemach family of Helmingham Hall, Suffolk, were a tolerated Catholic family when they bought the manuscript during the Protestant Reformation in the late 1500s. We anticipate that this piece will have wide appeal to local historians, those with an interest in theology or ecclesiastical history – as well as many of our museum supporters. Adoption level: Silver £150.

Matlaske Reliquary Pendant. This gold crucifix, found in village of Matlaske, Norfolk, is the front plate of a pendant made to hold a saintly relic (a reliquary). The surface is engraved with the crucifixion scene, showing St John the Baptist and a bishop at the foot of Christ's cross. It is inlaid with black enamel and the shape is a 'tau' cross, which is linked to St Anthony. This would be an exquisite gift for a local history enthusiast – perhaps even a resident of Matlaske itself – a museum supporter or even a unique way to let someone know you think they are a bit of a saint. Adopters of this gold-level item will be invited to exclusive talks and events to learn more about its fascinating history. Adoption level: Gold £500.

Oyster Shell Red Palette. Found right in the centre of Norwich during excavations at The Forum! During Medieval times, Oyster shells were often used as paint pallettes for intricate wall paintings or manuscripts. Very few oyster shell pallettes have been found from this period and astonishingly this was found during excavations for the Millenium Library at the Forum. It is anticipated that this item will spark interest from artists or art groups, those interested in local history and would make a lovely gift for any creative friends or family members. Adoption level: Silver £30.