'ofo' Dockless Bike sharing Scheme Begins In Norwich
31 October 2017, 07:22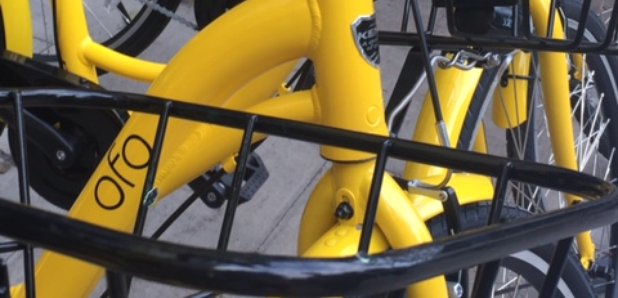 The world's first and largest dockless bike sharing platform, ofo, is expanding its reach across the UK by launching in Norwich today.
The move follows successful launches in London, Oxford, and Cambridge.


Rides will be completely free for the first two weeks in order to give people the chance to try the service with no obligation. After this a small charge of 50p for every ride under 30 minutes will be introduced.


An initial 200 bikes are being released onto the streets of Norwich on Tuesday, with the fleet gradually increasing to 350 in coming weeks.

ofo is working closely with Norwich City Council and Norfolk County Council to ensure its geofence (the area within which bikes can be hired) works well for customers and local authorities. This will help the service to integrate with existing cycling infrastructure in the area.

ofo first launched in the UK in April this year in Cambridge, and has since successfully rolled out to Oxford and Hackney. A Living Wage employer, ofo also engages with the cycling community by working with local bike shops to maintain its bikes. At least 10 marshals, who manage bicycle fleets and assist customers, will be employed by ofo on launch in the city, increasing to 20 in the following weeks.

ofo is the first station-free platform operating in the UK to be awarded accreditation by Bikeplus, the UK representative body for bike sharing, and has a 'UK Charter' that details safety specifications, community principles, responsible business practices and general service guidance.

ofo has consulted closely with riders and the local community and recently unveiled its upgraded bike fleet, with three gears to make riding uphill easier, and a hydraulically adjustable seat so customers can set the correct height with the simple squeeze of a lever. The bikes have been designed specifically for the UK market and have robust yet lightweight frames, a sturdy front basket, a dynamo front light and sustainable solar-powered rear light.

Joseph Seal-Driver, ofo's UK Operations Director commented: "We're delighted to announce ofo's arrival in Norwich, which will provide residents with flexible, convenient and affordable transport options - transforming the way cyclists get around the city for the better.

"By providing a practical alternative to the car, ofo bikes will also promote the fantastic health benefits of cycling - reducing air pollution and boosting healthy lifestyles.

"It's been great to work with Norwich City and Norfolk County councils too, who have both been eager to harness the fantastic potential of technology to help solve the persistent problems posed by urban environments today. Our close working relationship with the council will ensure that ofo bikes are used responsibly and considerately following their introduction."

Councillor Mike Stonard, Norwich City Council's vice chair of Norwich Highways Agency Committee, said: "Cycling in the city has gone from strength to strength over recent years making us an obvious choice for a hire scheme such as this.

"ofo has a good track record and we will work with them and county colleagues to monitor progress as the bikes come into use.

"Over the coming months we hope it will prove to be another positive addition to the cycling facilities we have on offer in Norwich."

Councillor John Fisher, Norfolk County Council's chair of Norwich Highways Agency Committee, said: "We've been working with ofo and colleagues at the city council to make sure this scheme has the best chance of being a success in Norwich.

"A series of measures has been agreed to help the service operate in a way that doesn't inconvenience others but still brings all the benefits of this cheap and convenient way to explore the city by bike."

How it works
ofo's eye-catching yellow bikes are hired through a smartphone app for just 50p for 30 minutes and can be picked up and dropped off anywhere that bike parking is allowed. ofo does not require riders to pay a deposit before use. To access a bike, riders can simply download the ofo app and unlock their nearest bike via Bluetooth connection. Once their ride is complete, users simply close the lock to complete their ride and make it available for the next person to use.

ofo also employs geofencing technology to ensure that riders use the bikes within the designated 'Home Zone' which is clearly visible in the app.

From launch day, ofo will have a team of 'marshals' available seven days a week to answer any questions from users and ensure the service runs smoothly and that bikes are being parked responsibly.