Operation Alliance Targets Roads In Thetford
5 December 2018, 16:15 | Updated: 5 December 2018, 16:33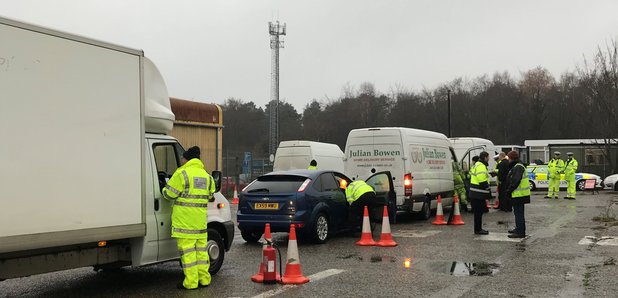 A scheme to catch criminals on the roads around Thetford was launched today by Norfolk and Suffolk Police.
The Joint Roads and Armed Policing Team were joined by officers from Essex Police for Operation Alliance in Thetford today.
The event ran from 8am- 4pm, and targeted local roads such as the A11 and A134.
Sergeant Julian Ditcham told Heart
"It's a day of practical policing so we're out there not just trying to deter criminals but catch them as well.
We pick an area where we're going to have a day on action and we're going to have impact. We have a high volume of police officers in a small area, flying the flag and doing what we do best which is trying to take criminals off the road."
The constabularies were joined by HM Revenue & Customs, Driver & Vehicle Standards Agency and Trading Standards, who performed fuel tests and vehicle checks to take unsafe vehicles off the roads.
Breathalyzers and drug tests were also performed as part of the police Drink Drive campaign.