Parents Skip Meals To Feed Children
17 August 2016, 06:00
A mum from Norwich has told Heart she's skipped meals during the school holidays so she can afford to feed her children.
Heart went to speak to Karen Breslin – a mum of 3 – at a holiday club that's been offering activities and a hot meal to parents and their children.
She praised the event at Lakenham Primary which has been organised by Norwich Foodbank and is running one day a week throughout the six week holidays.
The summer FISH clubs (Food and Fun In School Holidays) have proved successful over the past few years as they aim to provide a free club for low income families to receive a hot meal and some fun activities during the school holiday periods.
They have clubs in 7 areas of Norwich that run this summer, all led and supported by volunteers.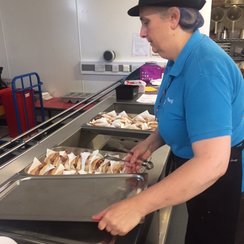 A recent report by the Trussell Trust has revealed one in five parents are expected to skip a meal during the holidays so there will be enough food on the table for their children to eat.
The research shows more than twenty per cent of parents have skipped meals, gone without food to feed their children or relied on family members or friends for food in the last twelve months.
More than a quarter of parents suffering from some form of food poverty said they were unable to provide food for all the meals their children need during the school holidays.
The school holidays can be a difficult time for families whose children usually receive free school meals or support from breakfast clubs.
Hannah Worsley from Norwich Foodbank told Heart "We were seeing so many more referrals of families and more children needing the food bank service – because they are struggling to make ends meet over the school holidays as free school meals are in term time. Rather than saying that's a shame we said let's do something about it and respond."
You can find more details about the FISH projects and details of how you can get help by heading to the Norwich foodbank website:
http://www.networknorwich.co.uk/Group/Group.aspx?ID=109369