Police Chase Dumper Truck From Norfolk To Suffolk
20 July 2015, 18:31 | Updated: 20 July 2015, 18:37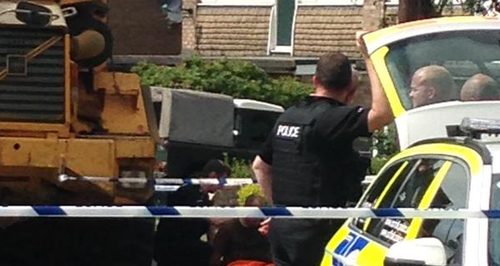 Police have arrested a man in his late 30s after a police chase from Norfolk to Suffolk with a 30-tonne articulated dumper truck.
PIC: Credit Stuart Venning
They were called to the A11 Thickthorn roundabout at lunchtime to reports the truck was stolen and being driven dangerously.
Six police cars and the police helicopter were involved in the chase.
It eventually came to a stop at the junction with Bury Road in Brandon after travelling along the A134.
Norfolk Police have confirmed three of the police cars were damaged during the pursuit - though the officers aren't thought to have been hurt.
They also told us the officers had to use a type of pepper spray called PAVA to aid them in the arrest - after the nearly 2 hour chase.