Safety Advice Ahead Of England's World Cup Match
7 July 2018, 06:44 | Updated: 7 July 2018, 06:45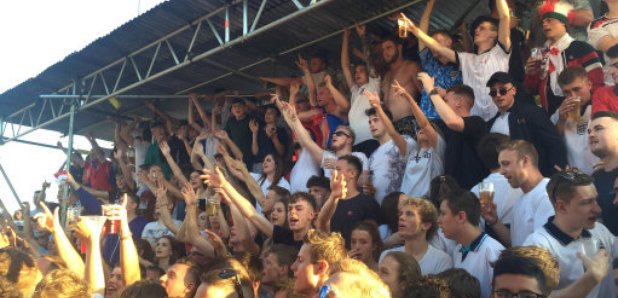 With Norfolk and Suffolk being promised more warm weather across this World Cup weekend, officers are reminding people to stay safe and think about personal safety.
Officers are urging people to enjoy themselves, the game, and the warm weather, but to behave appropriately and respect others at all times.

Police say they realise many supporters will go out to watch the game and are aware that a combination of alcohol and intensified emotions can sometimes lead to an increase in public order offences.

Officers are asking people to stay safe, stick with their friends, and make sensible plans for returning home after the match, which kicks off at 3pm.

Chief Inspector Matt Rose, of Suffolk Constabulary, said: "With England's welcome progress to the quarter final stage in World Cup 2018 we would encourage everyone to enjoy this exciting occasion, but in a considerate and tolerant way.

"We hope that everyone heading out to watch the match has a great time. However, excessive drinking can have very damaging consequences for those concerned, and sometimes for their families. Know your limits. Sadly we also see an increase in domestic abuse during major tournaments.

"If you watch a match at a pub or other public screening event make sure you plan ahead and take responsibility for yourself and your friends. Think about how you are going to get home safely and do not accept lifts from strangers. Remember friends stick with friends and drink or drive.

"Officers hope people will enjoy this important game in the right spirit and understand that if we win supporters will want to celebrate, however we will have extra officers on duty to deal with incidents of anti-social behaviour or criminality. Anyone arrested risks missing any future England games."

Chief Inspector Kris Barnard from Norfolk Police said: "This is an exciting weekend for Norfolk, not only because England are in the quarter finals of the World Cup but also because we have a number of events being held across the county.

"In Norwich many people will be out to enjoy the Lord Mayor's celebrations. If you are heading into the city please plan your day ahead, make use of public transport and be aware of any road closures which will be in place for the procession which will now start at 6pm, an hour later than originally scheduled.

"If you are heading out to enjoy the sunshine elsewhere please ensure you secure your vehicle and remove all valuables from display and from the vehicle where possible. At this time of year opportunistic thieves will be on the look-out for homes and cars with open windows and unlocked doors.

"There will be an increased police presence during the match in the city and town centres throughout the county to minimise the risk of any alcohol-related disorder."

Chief Inspector Barnard is also warning people heading towards the broads or the coast this weekend to stay safe near the water: "Norfolk is well known for its maze of open waterways and on a hot day the water may look an inviting place to cool down. Please remember the rivers around the broads are unsuitable for swimming in and have hidden dangers such as a sudden change in depth, decreases in temperatures and unseen objects and currents, which can cause even the strongest of swimmers to get into difficulty very quickly."