Police Investigating Suspected Chemical Spillage in Attleborough
4 October 2018, 16:30 | Updated: 4 October 2018, 16:34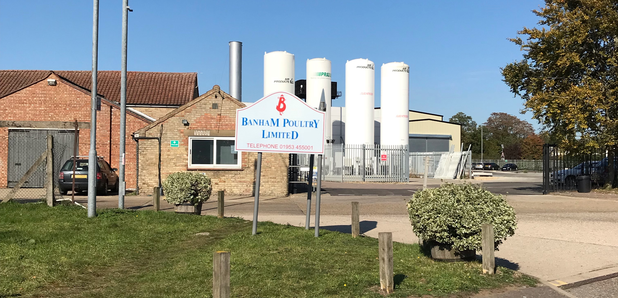 Police say they are looking into the cause of a suspected chemical spillage in Attleborough.
It's after two pest controllers were found dead at a chicken factory.
Officers say they are looking at a refrigeration gas leak as a line of enquiry but that there is no threat to the wider public from it.
Emergency services were called to Banham Poultry in Attleborough at around 1.10am this morning after the two pest control sub contractors were found dead.
The men, one in his 30s and other in his 40s, were found close to the factory and no one else was injured, Norfolk Constabulary said.
A spokesman for the Eastern Ambulance Service said that two ambulances, a rapid response vehicle, three hazardous area response teams and an air ambulance were sent to the factory.
"Despite the best efforts of all involved, two men died at the scene," he said.
Train operator Greater Anglia tweeted at around 7.30am that trains would not be stopping at Attleborough due to the spill.
It posted: "Due to a chemical spillage, train services will not be calling at #Attleborough, towards Cambridge direction. Services will be stopping in the Norwich direction. Emergency services are in the area dealing with the spillage. GA."
Banham Poultry is a family-owned business with more than 1,000 staff and is one of the biggest employers in the mid-Norfolk area, according to its website.
MP for Mid Norfolk George Freeman tweeted: "Terrible news this morning of two deaths from what is reported as an industrial chemical spill in Attleborough this morning. Thoughts and prayers with all those affected. And with the employees of @BanhamPoultryUK at this v difficult time."
He thanked all the emergency services that had worked through the night to secure the area.
Detective Chief Inspector Stu Chapman said: "On behalf of Norfolk Police and other emergency services, I offer my condolences to the friends and families of the men killed in this incident and our thoughts are with them at this difficult time. Colleagues from Norfolk Fire Service continue to make the scene safe so that detailed investigations can begin between police, fire, and the Health and Safety Executive (HSE), to understand the circumstances which lead to the men's deaths."