Pumkpin House Built On Norfolk Farm
26 October 2018, 17:28 | Updated: 26 October 2018, 17:30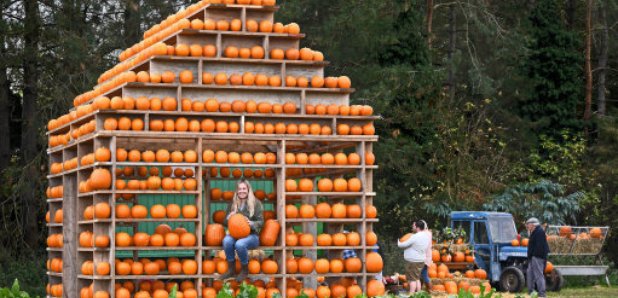 A pig farmer in Norfolk has gone that extra mile this Hallowe'en... building a PUMKPIN house!!!
Henry Cushing created the structure whcih is 5.5 metres tall - 4 metres wide and has around 950 pumpkins on it.

Pumpkins were placed on the wooden shelves by hand, with his wife Victoria balancing in the scoop of a JCB to reach the top levels.

The attraction has drawn a steady stream of visitors to their pop-up shop selling pumpkins ahead of Halloween.

Mrs Cushing said: "It's the first year we've ever done it.

"I saw a picture on the internet last year in America of something like this and I said to my husband we should make a pumpkin house.

"Quite amazingly just from a single photograph him and his friend who's a carpenter built it earlier this month.

"It was two solid days of sawing and hammering but I think now it's up it's pretty amazing."

Brookhill Farm is near a main road and Mrs Cushing said there had been a lot of horn honking since the house went up.

"It's so orange," she said. "I think that's the thing that it really stands out as people come round the corner."