Reappeal 25 Years On From Johanna Young's Murder
22 December 2017, 07:23 | Updated: 22 December 2017, 07:25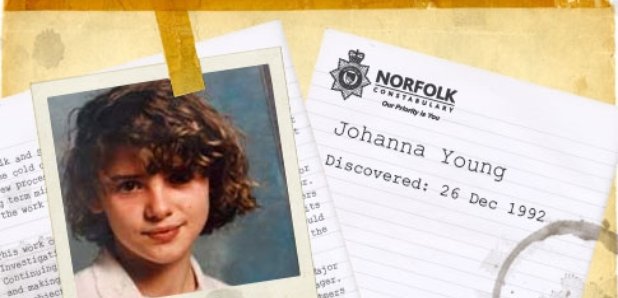 25 years have now passed since 14 year old Johanna Young disappeared from her family home in Watton.
With the anniversary of her death fast approaching her parents continue to be deeply affected and police are appealing for any new information which may finally give them some answers.
The last known sighting of Johanna alive was on the evening of Wednesday 23 December 1992 between 7:30pm and 8:45pm when she headed towards Watton town centre on a cold foggy night.
Johanna's parents did not notice that she had not returned home until her alarm went off at 6am the following morning which she did not respond to it. They had assumed she had stayed at her boyfriend's for the night because of the foggy conditions and it wasn't until Johanna failed to turn up for her paper round at 7am that the matter was reported to the police.
Sadly, on the afternoon of Saturday 26 December 1992, a member of public was walking his dogs in Griston Road, Watton when he found Johanna's training shoes in the undergrowth. He reported this to Watton police station.
A search of the area took place and later that evening Johanna's body was discovered approximately 120 metres from where her trainers had been found. She was face down in the water with some of her clothing removed.
Her body was covered in scratches and a subsequent post-mortem examination revealed that her death was caused by drowning and a fractured skull.
Despite a major investigation taking place in 1993 with a number of arrests of local men, no one has ever been charged in connection with Johanna's death.
Detective Chief Inspector Marie James, from the Constabulary's Major Investigation Team, who leads the enquiry into this unsolved case, appealed for further information saying:

"Twenty five years have gone by since Johanna's death and we hope that people, who may not have not been prepared to come forward on the original investigation, may now feel strong enough to do so.
Johanna's parents, still struggling to come to terms with her untimely death, continue to wonder who was responsible for her murder, thinking it was someone who knew her. They have asked me to specifically appeal to the people who live in the Watton area, asking them to search their consciences and offer them some form of closure."