RSPCA Launches Seal Appeal
22 February 2018, 16:00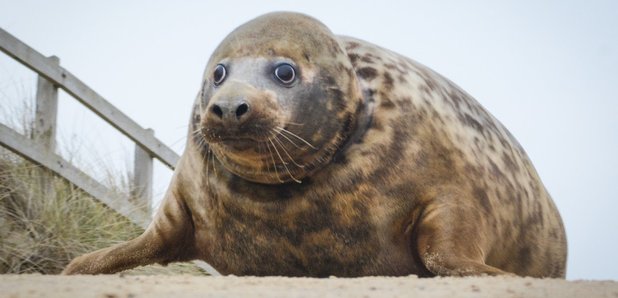 The RSPCA has issued an urgent appeal for donations as record-breaking numbers of sick and needy seals have poured into the charity's wildlife centres.
After we told you yesterday about a seal who was released back into the wild at Horsey Beach in Norfolk, having been rescued when she got a frisbee stuck around her neck...

The RSPCA, who helped nurse 'Mrs Frisbee' back to health, have launched a 'seal appeal' as they struggle to cover costs to care for record-breaking numbers of sick seals being admitted to their centres.

A surge in admissions at the RSPCA's four centres in Somerset, Cheshire, Norfolk and East Sussex has sent the charity's monthly seal care costs soar. With more than 140 seals currently being cared for, the RSPCA has seen mackerel bills alone exceed £3,500 a week. And the additional staff required to support these pups that require round the clock care, with tube feeding and medical treatment has seen running costs soar.


Alison Charles, Manager of RSPCA East Winch Wildlife Centre said: "Frisbee's story really highlights the work that goes into getting a seal ready to be released. It can take months of medical treatment and huge amounts of mackerel before they're well enough to return to the wild where they belong.

"Frisbee was extremely emaciated when she was admitted and needed really intensive care. She had clearly been starving for a long time, unable to eat with the frisbee compressing and cutting deep into her neck .

"I've never seen such a terrible, deep and infected wound before and hope I never do again. Frisbee was near death and we really didn't think she'd survive. But once we'd removed the plastic ring and she could extend her neck and eat, it was obviously a huge relief to her and she didn't look back.


"With the help of antibiotics and pain relief along with healing salt baths and good high-fat nutrition in the form of mackerel, five months later she is well enough to be released."

Frisbee was just one of a record 350 seals admitted to RSPCA centres last year (2017), up nearly 100 from the previous year.

Experts at the animal charity believe the high number of seal admissions is due to a 'perfect storm' of extreme weather coming at the height of the grey seal breeding season.

RSPCA Head of Wildlife Adam Grogan said: "We have never cared for so many seals at this time of the year before. As storm after storm hit our coastline earlier this winter, more and more seals have been admitted to our wildlife centres in Somerset, Cheshire, Norfolk and East Sussex.

"It couldn't have happened at a worse time for them - during the pupping season - which means most of these poor seals would have still been dependent on their mother.

"The seals eat enormous amounts of fish - mostly mackerel - and this represents a huge part of of the wildlife centres' budgets.

"If it wasn't for us, these seal pups might have starved to death. But we really need the public's help because without their donations we simply couldn't do what we do.

"This winter hasn't been too kind to these seals so far, but hopefully the public's generosity will bring them a little bit of sunshine. Donations can be made at our special Seal Appeal"

The RSPCA's wildlife centres have seen a significant increase in seal admissions, from 262 in 2016 to 350 in 2017. Since the start of the grey seal pupping season last September, they have admitted 255 seals, compared with 165 admitted over the same period last year, so they anticipate that this year will be a record-breaker.

Staff and volunteers at RSPCA's wildlife centres are busy rehabilitating the seals, with the aim of returning them to the wild.

Typically, caring for a seal pup includes hand feeding - with a tube if needed - at four-hourly intervals during the day and night. The staff use vaporisers and Olbas oil to relieve the seals' congestion and their environments are enriched to reduce stress and encourage natural behaviour like foraging.

As they improve medically and begin to eat on their own, the seal pups are moved through the hospital. Pups start in the wildlife centres' isolation units, progress to an intermediate pool with another seal then are moved to an outside pool with a group of seals so they have to compete for food. It takes on average at least 3 months to rehabilitate / release a seal back to the wild so the ongoing costs are significant

Not all seals seen along the coastline are in need of rescue and the public are urged to keep themselves and their dogs well away for their own safety as well as the seal's.

The RSPCA advises that if the seal looks healthy, observe it from a distance for 24 hours to see if the mother returns. If it doesn't, or you do have concerns about the welfare of a seal you have seen, then please call the RSPCA's emergency line on 0300 1234 999 to report the incident.