Search For Good Samaritan In Norwich
20 March 2015, 06:00
The search is on to find a good Samaritan who stopped to help a woman who had been attacked in Norwich.
Police have released a CCTV picture of the man, as they say he could hold vital information about what happened back on the 7th October last year.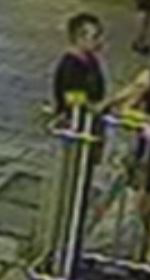 The woman was attacked following a night out in the city, and CCTV shows a man trying to help her.
Investigating officer, Detective Sergeant Richard Dickinson, said he's keen to speak to the man who could hold important information as a witness.
He said: "I would like to stress we are seeking this man as a witness who came to the aid of a woman who was assaulted hours later. I appreciate time has passed since the incident but identifying this person could greatly assist us in our enquiries."
Anyone with information is asked to contact DS Richard Dickinson at Norfolk Police on 101.