Six More Hemsby Properties To Go
1 May 2018, 08:11 | Updated: 1 May 2018, 08:13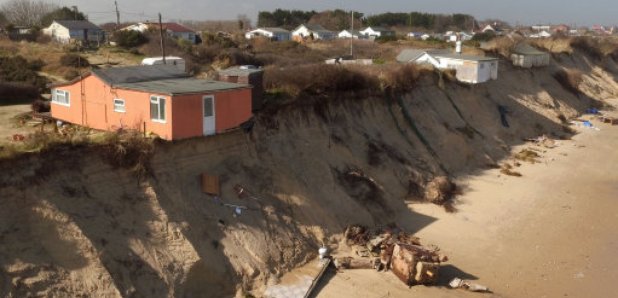 Six more clifftop properties at Hemsby are to be demolished.
They've been at risk of falling onto the beach below since March but are now too dangerous after yesterday's bad weather further eroded the cliffs.
Only one of the seven remaining properties to the east of The Marrams Road which have been under observation will now remain.
Demolition contractors are setting up on site today and will carry out their work as soon as it is safe.
As a precaution, residents of 30 properties to the west of The Marrams Road were given the option of evacuating to a rest centre last night until the high tide passed.
Cllr Carl Smith, the deputy Great Yarmouth Borough Council leader, said: "Following the storm in March, when the initial properties were lost, it was a sad inevitability that the loss of more cliff material would take place at some time and leave further properties in a dangerous condition.
"Unfortunately, in these unusual circumstances, demolition is the only option to ensure public safety, which is the top priority. I would like to express the council's sympathies to the owners of the affected properties and to the wider Hemsby community.
"Today has seen a robust multi-agency response and I would like to take this opportunity to praise those from Great Yarmouth Borough Council, Norfolk Fire and Rescue Service, Norfolk County Council, the Hemsby Lifeboat and our other partners, who have worked well together.
"This remains a fast-changing situation, especially with the continuing bad weather and further high tides today and tomorrow, and we will continue to keep a close eye on the dangerous properties, the cliff and the privately-owned access road.
"The public are reminded to stay away from the area to the east of The Marrams road, the Marrams Road itself and the beach directly below the cliffs, as these areas remain dangerous."