The People's Picnic Sock Appeal
7 December 2018, 16:02 | Updated: 8 December 2018, 10:54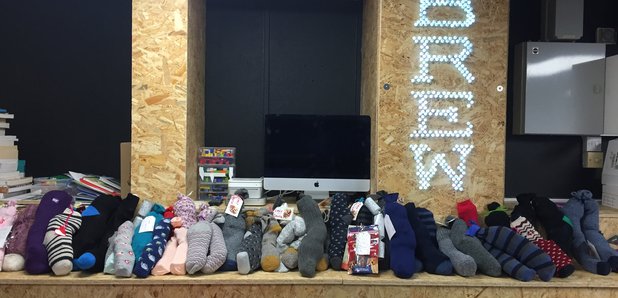 A Norwich charity are asking for gift filled socks to be donated to the homeless this Christmas.
The People's Picnic is one of five local charities, along with Norwich Soup Movement, Anon street team and E.A.T(Empathy and action time), they provide food to those in need around Norwich three times a week.
The sock appeal has been started by volunteer Doug Segal as a simple way for those in need to be gifted necessities this Christmas.
He told Heart what's helpful to put into the socks and why they're encouraging everyone to get involved
"Fill it with the other sock from the pair, toothbrush, toothpaste, roll on deodrant, sweets, chocolate and pants, people are desperate for pants.
It's a really simple thing to do to give back to society and to try and help people that are more disadvantaged and if that makes you feel good by filling a sock and giving it to someone, do that! Because it's a chance to help someone feel like someone's out at least is thinking about them and trying to help."
They also need items like gloves, hand wipes and extra socks, but no money or items with alcohol can be accepted.
Donations are welcome at Brew Digital and BrewDog in Norwich until Monday (10th). The socks will then be handed out at the People's Picnic Street Feast on the 22nd December.