Unison Responds To Suffolk PCSO Cuts
7 September 2018, 16:33 | Updated: 7 September 2018, 17:12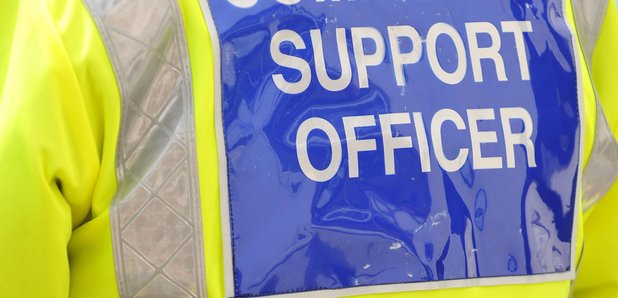 Unison have told Heart that cuts to community support officer numbers in Suffolk, will be a "serious detriment" to policing in the area.
Branch secretary for Suffolk Police Unison, Mark Trask, told us he believes it's all down to funding saying "Suffolk has the second lowest funding in England and Wales per capita, yet we have the second highest caseload for officers. We are at a disadvantage in comparison to other forces, this is all about money.

"Two years ago we had 173 PCSOs in Suffolk. Two years ago that was lowered to 107 and these current plans will take the numbers down to 48. The less people who are out there in the streets interacting with the community the worse we'll be."
The changes for Suffolk are due to come into effect by the end of next month and also see more than 100 police officers move into Safer Neighbourhood Teams (SNTs).
Mark Trask added "The constabulary have said that they're going to, in their place put police officers, but we all know that those police officers will not be walking the streets, they want to be working on more complex crimes, and they'll be the first to be taken away from thsoe roles to backfill shortages elsewhere."

The move comes after Norfolk Police force cut ALL of it's PCSO's earlier this year, also in a bid to save money.

A staff consultation about it was held. Suffolk Police said Chief Officers, in conjunction with the 2025 team and HR, considered all the questions, challenges and ideas submitted but given the changing nature of crime and demand faced by the force, the proposals remain unchanged.

Chief Constable Gareth Wilson said: "I fully accept this news will come as a disappointment to affected staff.

"In addition to our own internal consultation we have listened and responded to councils and other interested parties across Suffolk and we will continue to engage with them to ensure we remain responsive to the ever-changing demands we face.

"Our PCSOs have carried out excellent work across the county and I am confident that this work will continue, but this will be focussed on preventative work and supporting multi-agency interventions addressing high threat and high demand local issues. The combination of PCSOs, police officers and police staff in the right roles and locations will ensure that we continue to deliver a high quality service to our communities.

"I do not under-estimate the impact this change programme has had and continues to have and I have been impressed by their professionalism throughout the consultation period and this has been reflected in the constructive feedback submitted from both UNISON and affected staff.

"The Constabulary will continue to support our staff sensitively through the next steps and I remain committed to finding every opportunity to retain our staff through redeployment within the organisation.

"I am confident that the changes will add to the visibility of police officers to our communities and as I have said many times before, local policing is the bedrock of our service, and the decisions I have taken to move additional officers into this area reflects this commitment.

The force will continue to work on the implementation of the proposals and the intention is that the changes will come into effect on 29 October.

Police and Crime Commissioner for Suffolk Tim Passmore said: "As I meet people across the county their message to me comes through loud and clear, they need much greater visibility and I'm pleased to say we have listened.

"This revised local policing plan will see an extra 104 police officers moving into the Safer Neighbourhood Teams from October this year. In order to do this some police roles have been civilianised, officers have been moved from central to local teams and regrettably the number of PCSOs will now reduce, but the outcome will be more police officers in local policing. I would much rather there was no reduction in PCSO numbers because I've seen at first hand what a valuable contribution they make to keeping Suffolk safe but we have to live within our means."

Mr Passmore added: "As I said when the plans were announced earlier in the summer, I will be monitoring the impact of this new model to ensure the people of Suffolk are getting the police service they deserve.

"I will also continue to lobby for fairer funding for the constabulary as I believe the root of our financial challenge lies with the huge unfairness of the funding from the Home Office which is why I will do everything possible to alter this injustice."