VIDEO: Virtual Helicopter Tour Shows Norwich Plans
8 July 2015, 06:00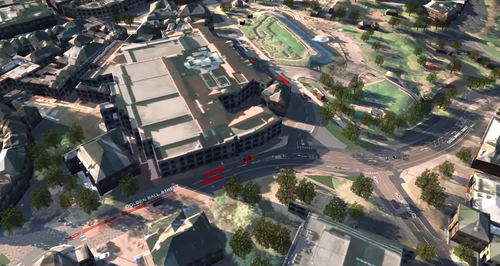 A virtual helicopter tour of what Norwich could look like if plans to pedestrianise parts of the city go ahead has been released by the county council.
It's been offered as part of the public consultation into changes around the Golden Ball Street, All Saints Green and Westlegate areas.
Cllr Steve Morphew, Chair of the joint Norwich Highways Agency Committee, said: "This is an excellent way of helping people see how these changes will affect this important part of the city centre. It can be quite difficult to grasp how plans will work in reality, especially when there are a number of measures over quite a wide area.
He says making the video available at this early stage will help people understand and comment upon the proposals.
The proposals would see major traffic flow changes brought into the area around Farmers Avenue, Golden Ball Street, All Saints Street and All Saints Green, Westlegate, St Stephens Plain and Red Lion Street.
There would also be more pedestrian areas, and the removal of traffic lights and kerbside barriers at a number of junctions.
As part of the overall 'Transport for Norwich' strategy, the aim is to further strengthen the main commercial area by reducing conflict between vehicles, pedestrians and cyclists, while maintaining access for all modes of travel - car, bus and taxi, motorcycle, bicycle and walking.
The consultation continues until 27 July, and people's views will be reported to Norwich Highways Agency Committee on 17 September. Following any changes arising from the consultation, it is hoped that work will start early in 2016, with completion in the autumn.