Wartime Love Letter Found In Norwich
12 February 2015, 17:16 | Updated: 13 February 2015, 06:44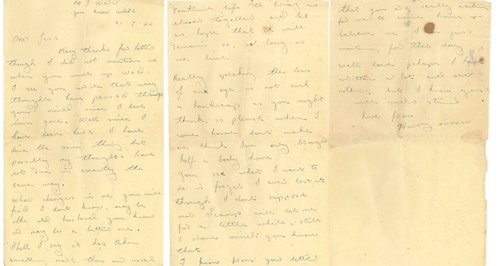 The Norfolk Record Office is looking to find the author of a wartime love letter that's been hidden for the best part of 50 years.
The letter was found in a secret compartment of a sewing machine, that had recently been bought from a Norwich charity shop.
The letter, written by a soldier called Harry, is to Jess, his wife, and is dated 31 July 1946.

Other than that, there aren't any other clues as to the identity of the couple or where they lived.

Gary Tuson, County Archivist, is hoping that Norfolk residents will be able to shed some light on this wartime love story.

He said: "This letter is symbolic of the times in which it was written and was discovered in Norfolk, which is why we've decided to include it in the Norfolk archive. There's so much undiscovered local history in the county and, as this letter illustrates, you never know where you'll come across it. It would be fascinating to find out more about Harry and Jess, whether the family lived in the county, and how the sewing machine ended up in a Norwich charity shop."

In his letter, Harry writes about losing an eye since his last meeting with Jess and describes the couple's pain at their separation. He writes: "what changes in me you will find I don't know, maybe the old husband you knew or maybe a better one".