Watch: Dave And Heidi Do Your Job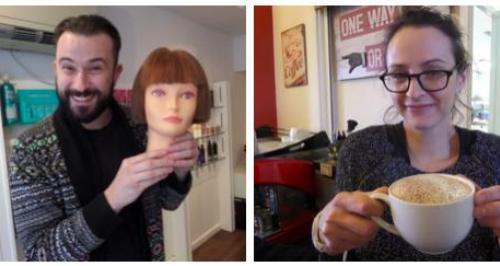 Watch Dave & Heidi as they hit workplaces across East Anglia to try and do your job.
Dave & Heidi wanted to meet you, find out about your workplace and ...have a go at your job!
Who was better, Dave or Heidi ?


Norwich Theatre Royal - Dave & Heidi tried being actors in "Shrek The Musical" watch the transformation here.

Potters Resort, Hopton - Dave and Heidi are let loose with the public. Watch them here
Suffolk Show - Dave & Heidi had a go at making the cows pretty at the suffolk show.. Watch them groom Daisy here

Wymondham College: They joined year 8 to have a go at being teachers - Did they fail or pass? Watch them in action

Linzers Bakery: To have a go at baking, see how they got on here

Mustard TV: To try their skill at TV presenting. Watch them perform here.

Brian Coombes Hairdressing: To try out their hairdressing skills. Watch them snip snip snipping here

Britannia Cafe: To learn how to be a Barista. Watch Here

F.L. EDGE & Son Butchers: To learn how to make sausages - Watch Here

Retro Skate in Great Yarmouth: Today they try Roller Skating. Watch Here
Davenport's Magic Kingdom: Today they try performing magic to a live audience. Watch Here
Go Ape in Thetford: To learn how to be safety instructors. Watch Here
Parenting at City College Norwich: Looking after virtual babies for 24 hours. Watch Here
Do you have a job that you think we should try?