Dave & Heidi Star In Shrek..
Dave & Heidi Try - Being Actors
05:19
Dave & Heidi have been out across Norfolk & Suffolk trying your jobs!
This time they heading to Norwich Theatre Royal.

SHREK THE MUSICAL is this year's must-see show for all the family and currently on at the Norwich Theatre Royal June 28th.
Dave & Heidi were invited along to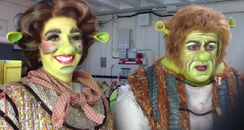 try and have a go at being actors, with the amazing talents of makeup, costumes and wigs they were transformed from simple radio presenters to Mama and Papa Ogre.
Watch the video at the top of the page and see how they got on, who's acting skills were the best, Dave or Heidi?


Check out all the other videos, and let us know if you want Dave & Heidi to try your job.

Image by Helen Maybanks
Shrek the Musical is running until June 28th at Norwich Theatre Royal

Join the unlikely hero and his loyal steed Donkey as they embark on a quest to rescue the beautiful Princess Fiona from a fire breathing love-sick dragon. Add the diminutive Lord Farquaad, a gang of fairytale misfits, and a biscuit with attitude, and you've got the biggest, brightest musical comedy around! Featuring all new songs as well as cult Shrek anthem I'm a Believer.
Fancy watching this all-singing, all-dancing extravaganza. You can book your tickets here.