WATCH: 'EastEnders' Barmaid FINALLY Gets A Storyline After 30 Years On the Soap
2 May 2017, 11:11 | Updated: 2 May 2017, 13:10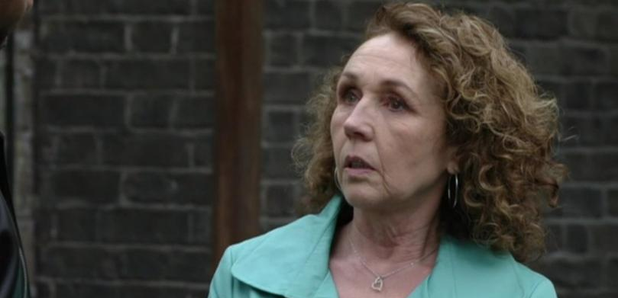 Tracey speaks! Fans can't believe the character, played by Jane Slaughter, was finally given some lines.
It's always the quiet ones! Tracey the barmaid has been a largely silent EastEnders character for more than 30 years, but viewers were stunned last night to see that she piped up after being unceremoniously SACKED from The Queen Vic. Three decades is a long time to wait for a storyline, but it's better late than never!
Played by actor Jane Slaughter, the character has become something of a cult figure since first appearing on the soap way back in February 1985. She's always been in the background, but now – a whole 32 years later – she has been given a storyline to sink her teeth into.
JUSTICE FOR TRACEY!!!!!!! #eastenders pic.twitter.com/3h3CayebbZ

— Sam (@sxmwillixms) May 1, 2017
Or not, as Tracey didn't show up to her own leaving party! Well, at least the aloof character has remained consistent since the 1980s.
Instead she shared a short scene with fellow long-serving character Ian Beale, as he reflected on her time on Albert Square. It was her first proper scene in the show, besides one in which she received a short phone call from Kathy in 2015. It was a huge storyline, as Kathy was believed to be dead at the time, so the scriptwriters were obviously having a bit of a laugh by having such a usually silent character get embroiled in it.
Meanwhile Kathy addressed the party members at the Queen Vic as she paid tribute to the loyal barmaid, stating that she would "never miss a shift" and, despite moving away from Walford, travelled in by buss every day. What a diamond.
YOU CAN'T FIRE TRACEY #eastenders

— Rebecca Joubert (@BeckyBeckaBex) April 28, 2017
Ian then stormed into the pub, on which he declared a boycott, and revealed that Tracey had been through a cancer scared and TWO divorces during her time on EastEnders. This prompted Jane to conclude that Tracey was the perfect barmaid as she listened to other people's problems, yet never shared her own."
Despite the warm tributes, Shirley sadly insisted she couldn't reverse Tracey's marching orders, as the barmaid's departure was necessary to keep to ailing pub from closure. Tracey still has plenty of supporters in Albert Square, though, as Ian led a crowd out of the pub as they chanted, "Justice For Tracey!" Sing it loud, sing it proud!