Get Set For The 3foot People Festival!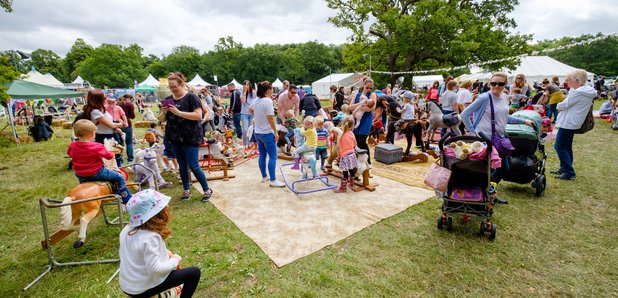 The 3foot People Festival is the UK's largest outdoor festival exclusively for pre-school children and is returning this summer for their biggest year yet.
Hylands Park in Chelmsford will again be home to three days of fun from 26th – 28th June, welcoming over 14,000 pre-school children, parents and carers to a beautiful village of assorted tents will create areas jam-packed full of activities, performances and sessions to explore – once on site everything is FREE and included in the ticket price, hooray!
This year's line-up has something for everyone:
Sports Zone - Plenty of 'have a go' sessions for the little ones to develop their balance and co-ordination skills – these include: athletics, basketball, cycling, football, gymnastics, hockey, martial arts, mini trampolines and tennis.
Play, Make and Do - Exploring creativity, through interactive involvement, is strongly encouraged at 3foot and that's exactly what goes on in the play, make and do tents. This year festival goers will help build a big recycled sculpture, watch it grow over the festival! Attendees can expect lots of arts and crafts opportunities and even the chance to create a magical wand, plus lots of hands on sensory messy fun with food play, water play, potion making and den building. Returning is the exciting 'Boxed In' tent, creating a truly unique cardboard kingdom. Every kid's favourite will be taking over one of the tents too, soft play – a chance to burn off that youthful energy.
Theatre and Story telling - Whether this be an intimate story time session within a secluded tented village, or one of the spectacular shows in our big tops. Expect a fairy-tale adventure for all the knights and princesses, an immersive experience with the infamous art cannon, lots of wonderful puppet performances, a potato puppet playground and more.
Music and Movement - There will be lots of musical magic with the much-loved all-day disco and even a baby rave! Movement is encouraged through numerous dance taster sessions and lots of activities to develop balance and agility of toddlers.
Animal Zone - There are more animals landing at 3foot this year than ever before, in the new secluded wooded area. The mini petting farm will allow you to get up close with some farm favourites like chickens, ducks, pigs, sheep and giant bunnies. The experience doesn't end there, as the mini exotic zoo will include animals a little more tropical such as parrots, snakes, bearded dragons and parakeets.
Plus, the rest…
Roll up, roll up as the 3foot people festival introduces Joskins Fayre an interactive carnival zone, one you're sure to love! Returning this year is the popular 'Horse World', a playground of rocking horses and more to be explored and enjoyed whilst providing the much-loved chill out zone for adults. The bouncy castles are back too, with an exciting inflatable helter-skelter for 2018.
The 3foot team has lined up more than one or two tasty treats and food outlets for all to stay fuelled throughout the day, with healthy, vegetarian, vegan and gluten free options too. The organisers care about the environment, so the site operates a full recycling scheme for all the waste.
Join in the fun… Tickets for 2018 are priced at £2 for 0-1 year olds, £6 for 1-2 year olds, £12 for 2-5 year olds and £12 for adult carers (aged 16 years or over) – all little and Big People (including babies) require a ticket to enter the Festival. Car parking tickets are £3.00 per car, with return bus tickets priced £5.00 for adult carers, £3.00 for 2-5 year olds and free to under 2s. Car park and bus tickets need to be purchased in advance.
Tickets are available online or from the Civic Theatre Box Office, Fairfield road, CM1 1JG, over the counter or via telephone 01245 606505