Essex's Top Stories
12 June 2015, 07:39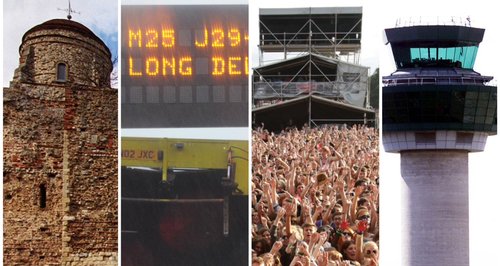 The developing stories in Essex updated throughout the day.
Second man charged over Westcliff murder

Police investigating a murder in Westcliff have charged a second man.

30 year-old Steven Woodhouse was found stabbed in the chest on Park Road 10 days ago - it's thought he'd been attacked at a nearby scrapyard.

45 year-old Paul Sultana from Green Lane in Ilford was arrested on suspicion of murder on Wednesday.

He was charged last night and is due in court in Southend later.

Another man has already been charged over it.

Officers say they're not looking for anyone else.




Man wanted over Stratford murder could be in Essex

Police looking for a man over the murder of a woman in Stratford say he could be here in Essex.

The public are being urged not to approach 36 year-old Mark Hayes from Idmiston Road but to call 999 instead.

It's after a woman, thought to be his mother, was found stabbed yesterday.




Irresponsible pubs, bars and clubs in Essex will not be tolerated, says police chief

Essex's top police officer's told Heart irresponsible pubs, bars and clubs here WILL NOT be tolerated and could be shut down.

Chief Constable Stephen Kavanagh says they've closed at least one bar down after a number of people were injured there.

His says this tough approach has led to a fall in night time violence.




Witham woman banned from keeping animals for life

A woman from Witham who starved her dog to death has been banned from keeping animals for life.

The RSPCA syas Chernice Merton's Jack Russell cross 'Bubbles' was forced to scavange rubbish for food.

The 26 year-old from Bramble Road's also been fined and order to do 100 hours of unpaid work.





50kg of Class A drugs seized at Harwich during countrywide operation

50 kilos of Class A drugs has been seized at Harwich Port during a week-long operation at ports and airports around Britain.

In total £2.5 million worth of heroin's been seized across the country, and 11 people have been arrested.





Essex Special School Games take place

300 children with disabilities will come together later for Essex's version of the Paralympics.

The Essex Special School Games is being held at Basildon Sport Village.

Pupils will compete in sports like handball, wheelchair basketball and swimming.