£2000 Raised For Abandoned Essex Foal
20 February 2015, 12:36 | Updated: 20 February 2015, 12:37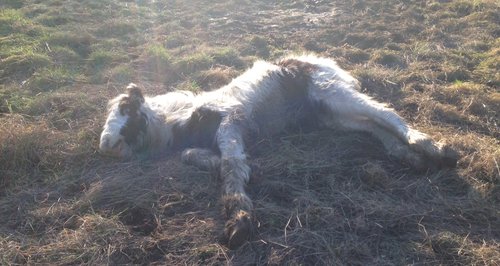 An appeal to raise money for a foal abandoned in Halstead - has raised more than £2000 pounds in two days.
4-month-old piebald cob Gizmo was left to die without his mum on the side of Yeldham Road, near Ridgewell Caravan Park.
He was extremely underweight, he was riddled with lice, hypothermic, dehydrated and has since been found to have pneumonia.
But justgiving page, set up to raise £11,000 for emergancy treatment and long term care has raised £2327 in under two days.

RSPCA inspector Sarah Elmy said: "Poor Gizmo was just abandoned without his mum and left to die by the side of the road.
"He was so weak he was just collapsed and couldn't - and still can't - stand, and you can see every bone in his body, he's so thin. We had to carry him to the van on a rug.
"He was so keen to live, though, bless him. Even though he was lying flat out, he was trying to reach forward and crawl himself along the ground to get to grass. As soon as we propped him up he was nibbling, trying to eat from our hand. It was so heartbreaking.
It seems though, that this is part of a wider problem. Gizmo's now joins more than 600 other horses in the RSPCA's care, who say they get 500 complaints relating to horse welfare every week.
For those wanting to donate towards Gizmo's care should call 0300 123 0346 or visit https://www.justgiving.com/gizmothefoal/