7,000 Weapons Handed In In Essex Knife Amnesty
29 April 2016, 06:22 | Updated: 29 April 2016, 06:24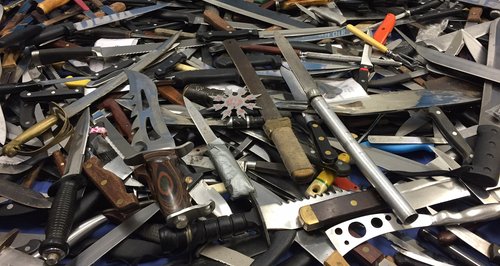 Nearly 7,000 weapons have been handed in across Essex during a knife amnesty campaign.
Knife amnesty bins have been based in Clacton, Colchester, Chelmsford, Braintree and Basildon since January 2015.
Weapons left in the bins included a BB gun and a pellet gun.
The campaign was run by charity Only Cowards Carry in partnership with Essex Police, the Essex Police and Crime Commissioner, and local councils.
The knives will now be given to the British Ironwork Centre, which is transforming surrendered weapons collected from across the country into an angel sculpture as part of its Save a Life, Surrender Your Knife project.
Chief Superintendent Ewen Wilson said: "A substantial number of lethal weapons have already been taken off our streets through this initiative.
"If amnesties persuade even one person to think twice about carrying a knife and to get rid of it, then they are a valuable tool in making Essex an even safer county.
"They also provide a way for law abiding members of the public to get rid of knives they no longer need in way that guarantees they will never end up in the wrong hands.
"The chances of most of us being a victim of knife crime are very low – just a one in 1,515 chance.
"But even one victim is too many and we will continue to take a tough stance on dealing with those caught carrying or using knives, and working with our partners to help people understand that carrying a knife is not the answer to any problem.
"However, the public also have a vital role in helping us, as the more information we have, the easier it is for us to stop these crimes from happening.
"I would urge anyone with information to contact us directly on 101 or contact Crimestoppers anonymously on 0800 555 111."
Caroline Shearer, of Only Cowards Carry, said: "We are very proud that our amnesty bins are a great success.
"Working alongside Essex Police, the Police and Crime Commissioner for Essex and local councils, we have managed to take thousands of weapons off the streets.
"However, this is not the end. It is the beginning of safer communities.
"We all have a responsibility to protect our towns, our streets, our homes, our neighbours, our colleagues and especially our families.
"This is not going to be a single-handed mission. Everyone has to, and is, pulling together.
"This is a continuous campaign that is not time restricted.
"We all deserve to be safe so thank you Essex for your support.
"Our funds are limited and any organisation that would like to sponsor a bin or education in their area can contact us on 01255 428744".