A12 Northbound At J17 To Be Closed Until At Least 1am
25 November 2015, 11:38 | Updated: 25 November 2015, 12:42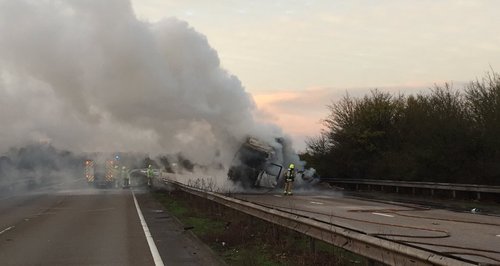 Essex Police has said the northbound section of the A12 at Howe Green is set to be closed until at least 1am after a major lorry fire.
An HGV loaded with wood caught fire at around 7.30am between the on and off slip roads at Junction 17 for Howe Green and the A130.

Both carriageways have been shut and officers at the scene say the northbound stretch could stay closed until the morning as repair works are carried out.

The closure has caused problems on other roads, especially the A130 as well as the A414.
Sergeant Colin Shead, from the Essex Road Policing Team, said on Twitter: "Lorry now cleared of its load of timber. Recovery underway. This will take some time due to severe damage.
"J17 northbound will remain closed until at least 1am tomorrow".
#A12 Lorry laden with wood remains on fire. #A12 at Howe Green will remain closed for some time. pic.twitter.com/5gB7bedtak

— Colin Shead (@SgtColinShead) November 25, 2015