Anglian Water Use Drones In Essex To Find Leaks
17 May 2017, 06:07 | Updated: 17 May 2017, 06:15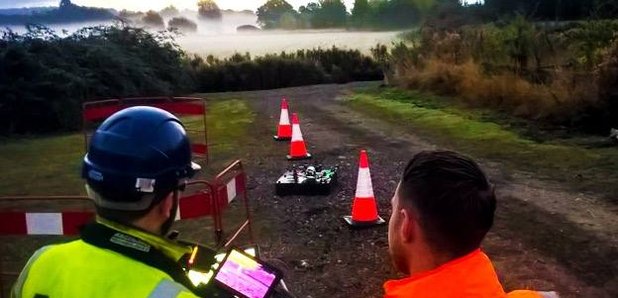 Anglian Water has become the first water company to trial thermal imaging drones to detect leaking water pipes.
The new technology has already been used to successfully identify leaks in the rural villages, and the company plans to trial the new technology more over the coming months.
With nearly 40,000 kilometres of water pipe to keep an eye on, much of it in rural and remote areas, Anglian Water hopes the aerial technology will help reduce the cost and time taken to find a leak and pinpoint its location more precisely by spotting changes in soil temperature near the water pipes.
Paul Valleley, Director of Water Services for Anglian Water said: "We genuinely hate leaks as much as our customers do and we're determined to keep reducing them. We don't believe it's good enough to stop just because we've met the targets set by our regulator; not when reducing leakage is so important to customers and so vital for us in this dry part of the country.
"Anglian Water is bucking the trend. We've cut leakage every year since privatisation in 1989 and our leakage is at record low levels - around half the national average. We have set ourselves much tougher targets than those set by our regulator, and beaten them for three years running. We're going further than most of the industry, because we believe it's right for our customers, and for the environment. This is a plan that our customers explicitly supported when we spoke to them about it."
Anglian Water's performance on leakage is one of the best in the business, at around half the national average. And we will have invested £124million on reducing leakage between 2015 and 2020.
Paul continued: "The East of England is a dry region and we want to do as much as possible to conserve water. Addressing the challenge of leakage is one of the reasons we can be confident that there won't be a hosepipe ban in the Anglian Water region this summer. We encourage customers to use water sensibly whatever the weather because it's better for their bills and the environment. We intend to do our bit in return too.
"Last year we achieved our lowest ever level of leakage beating the target Ofwat set us, and we have ambitious targets to do even more. We've launched a £60m war on leakage to continue driving levels down even further between now and the end of the decade. This investment will take us even further, beyond the targets set, in response to what our customers have told us is important to them.
"Over the last few years we've recruited a 300-strong team focussed purely on leakage, helping us go way beyond the target set by our regulator. We're beating this target because we've invested in people and in state-of-the-art technology. Our Intensive Leakage Teams are using every technology at their disposal to cut leaks, including these thermal imaging drones and specialist robots . And our innovative pressure management schemes are dramatically reducing bursts and leaks."
The drones have already saved Anglian Water time and money by finding hard-to-spot leaks. The drones will also help Anglian Water minimise disruption for customers, by covering large distances in a short space of time. The sensor and camera on the drone can identify differences in soil temperature which could be caused by water escaping from the pipe. These differences are then investigated further by a leakage technician on-site, rather than needing to be analysed back in the office. All of this means the job can be carried out quicker and more precisely – meaning less digging, less money, less water lost and less disruption to customers.