Arrests After Protests Disrupt Flights At Stansted
29 March 2017, 06:56 | Updated: 29 March 2017, 07:07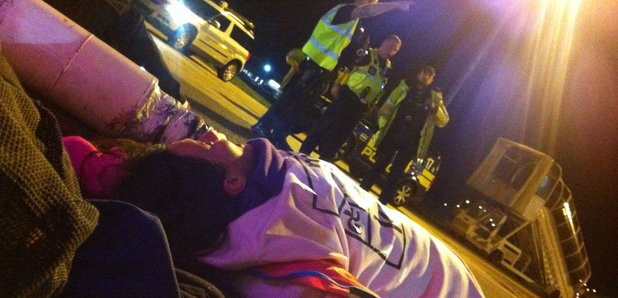 Three people have been arrested after anti-deportation protesters locked themselves to a plane at Stansted Airport.
Flights were temporarily suspended on Tuesday evening after the group entered a secure area and erected a blockade near a non-commercial runway.
Police quickly contained the incident and flights resumed, but several activists remained at the scene into the early hours of Wednesday.
Campaign group Lesbians and Gays Support the Migrants (LGSMigrants) said some of its members, along with individuals from End Deportations and Plane Stupid, were behind the bid to halt a "mass deportation flight'' destined for Nigeria and Ghana.
The group said a protest involving eight activists had forced the cancellation of the flight and its crew were seen leaving the plane.
Essex Police said they were called by airport officials at 9.30pm on Tuesday after protesters "gained access to Stansted Airport air-side''.
A spokesman said: "Protesters entered and locked themselves on to an aircraft destined for Nigeria. Officers are currently at the scene and we are in the process of removing them.''
The force said three arrests had been made so far, although no more details were given.
Acting Assistant Chief Constable Sean O'Callaghan said: "We have contingency plans in place for any incident at the airport and have quickly contained the protesters in one area with minimal impact on airport operations and procedures.
"We continue to work closely with our partners and the airport authority as we are working to apprehend the protesters quickly and effectively.''
An airport spokesman said it was a "quiet period'' and flights had resumed by 11.15pm on Tuesday.