Body Worn Cameras For Essex Traffic Wardens
17 March 2015, 14:52 | Updated: 17 March 2015, 14:57
Traffic wardens in south Essex are getting new body worn cameras to protect them from abuse and assault.
Staff in Basildon, Brentwood, Castle Point, Chelmsford, Maldon and Rochford have now been issued with the CCTV cameras to increase their safety while carrying out their daily duties.
Since the start of 2013 officers in those areas have reported 95 cases of serious verbal abuse or physical assault while at work, and of those 26 were deemed serious enough to involve the police. Some incidents resulted in arrest and charge, however the majority ended with a verbal warning due to a lack of real evidence.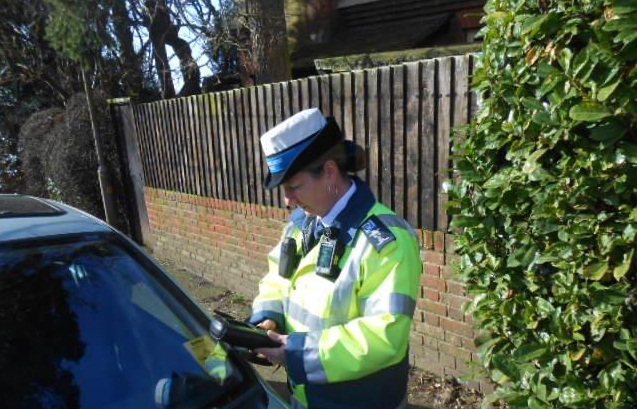 Chairman of the South Essex Parking Partnership (SEPP) Joint Committee, Councillor Ron Pratt said: "The SEPP Joint Committee Members agreed and approved the funding for CCTV body- worn cameras in order to enhance the working environment of the enforcement officers and to enhance their safety and wellbeing when facing aggressive, threatening or abusive behaviour from members of the public.
"Parking enforcement provides an essential service which contributes to the overall traffic management of the public highway, ensuring the safe, free flow of traffic and managing the competing demand for road side parking.
"The cameras will form part of the CEO's uniform and will only be activated in circumstances where the officers feel their safety has been compromised or they are likely to be subject to verbal or physical abuse.
"Official research has shown that Body-worn CCTV has the potential to significantly reduce the number of incidents of verbal and physical abuse the CEOs encounter.
"Where incidents do occur, these cameras will improve the quality of evidence available to The Parking Partnership, the police and courts, particularly in cases where there are no other witnesses".
The Joint Committee Member for Chelmsford, Councillor Ian Grundy said, "Providing staff with the necessary support and equipment to effectively carry out their roles is important to the Parking Partnership.
"I am pleased that the success of the Parking Partnership has enabled the Joint Committee to invest in the staff and to provide this essential equipment, which will help to prevent unnecessary threatening and abusive behaviour; with the added benefit of providing evidence to the authorities, if an incident should occur."