Box Of Kittens Dumped In Chelmsford
10 March 2015, 11:34 | Updated: 10 March 2015, 11:41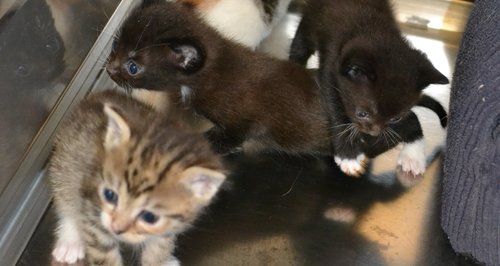 A box of four kittens and two nine-month-old tabby cats - one without a tail - have been found abandoned in a cardboard box in Chelmsford.
They were found outside the Great Baddow Clinic in Maldon Road, Chelmsford early on Friday morning.
The cats were all very cold and covered in fleas, but the RSPCA think they'll make a full recovery.
They have been named with Disney Princesses and Princes in mind - mum cat is Ariel, her tailless friend Belle, and the two female kittens (both tortoiseshell) are Aurora and Jasmin.
The two male kittens are both black and have been named Eric and Phillip.
RSPCA inspector Marie Hammerton said: "These poor little things were left cold and uncared for on a doorstep but will hopefully now have a happy ending, so Disney royalty seemed an apt theme.
"The cats were found at 7am but we don't know how long it had been there - it could have been anytime since 6pm the day before as that is when the clinic closed. It would have been very cold for the little things if they had been there overnight.
"The box had been sealed with black masking tape with some rough air holes made around the top.
"We urge anyone with any information about how they came to be dumped like this to let us know on 0300 123 8018."