Boy born in M25 queues
14 August 2018, 07:36 | Updated: 14 August 2018, 07:39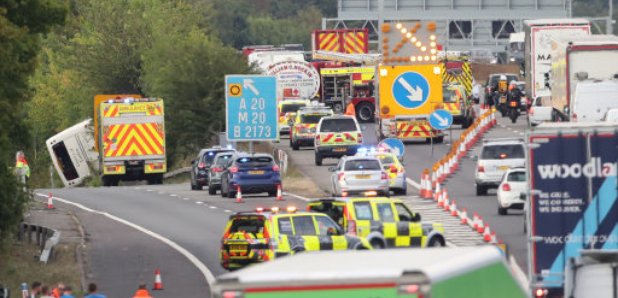 A boy has been born amid queues of traffic caused by an overturned coach on the M25.
41 people were injured when the vehicle turned on its side on the motorway near Swanley in Kent on Monday afternoon - which also caused long delays for drivers heading into Essex.
Kent Police roads unit later tweeted: "Pleased to update no serious injuries with overturned coach at junction 3 M25.
"And just to make things interesting a baby boy was born at the scene."
Three people with more serious injuries were taken to hospital following the incident, while 38 were treated for minor injuries.
Seven children were among those hurt, South East Coast Ambulance Service said.
The Princess Royal University Hospital (PRUH) in Orpington, Kent, was put on major incident alert, a spokesman said.
It later said it was treating 23 people.
"All of a sudden you get this huge noise and then the next thing you don't see this coach no more, so it was a pretty shocking scene to be honest," said a witness who was driving back to Frinton-on-Sea.
"It was quite distressing actually watching these guys get out of the coach through the back window."