CCTV Released After Colchester Stabbing
1 March 2016, 14:11 | Updated: 1 March 2016, 14:51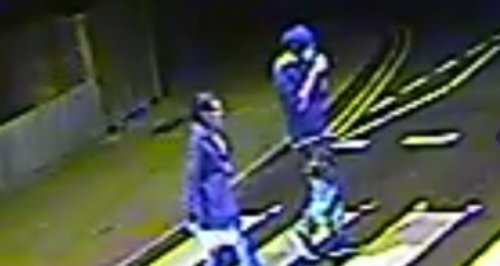 After a man in his 70s was stabbing in Colchester last year, police have released a number of CCTV images of people they want to speak to.
The victim was stabbed in the the face, chest and back in his back-garden at 5.40pm on Tuesday, November 10 in Hythe Hill.
At the time he was taken to hospital in a 'life threatening condition,' but has now been released and is being looked after by family.
Police say the suspect is a white man in his 30s and about 5ft 8ins tall, who wore camouflage trousers and a green top.
It is believed he would have entered the garden from Port Lane and left the via same route.
He may have gone towards the Old Heath Recreation Ground or the A134.
Detective Chief Inspector Marina Ericson said: "This was a brutal attack in which the victim suffered ten stab wounds. He had to undergo surgery and was placed in an induced coma during his hospital treatment.

"We have been making extensive enquiries as part of our investigation to identify the person responsible for this horrific incident and bring them to justice.

"We have been grateful for the public's support so far in coming forward with information but we continue to need their help.

"We are now in a position to release a number of CCTV images of people who were in the Hythe Hill and Port Lane area at the time of the incident and might have seen what happened or have vital information.

"We are keen to speak to them and would ask that they get in touch.

"We would also ask their friends or relatives let us know who they are so that they can be eliminated from our enquiry.

"It is very important that we eliminate these people from our enquiry."

"I am also keen to hear from anyone who was in the area between 4.30pm and 7.30pm on November 10 and saw anybody acting suspiciously.

"Any piece of information, however small you may think it is, could help our investigation."

The 11 images being released show 12 different people detectives want to trace and speak to.
| | |
| --- | --- |
| | |
| Image 1: lone man walking in Hythe Hill between Port Lane and Standard Road at 17:39:13 | Image 2: man and woman walking near The Grapes pub, Mersea Road at 19:01:48 |
| | |
| | |
| Image 3: lone man walking near New Town Tavern, Kendall Road at 17:32:55 | Image 4: lone man walking near Foundry Arms pub at 18:32:17 |
| | |
| | |
| Image 5: lone man walking in Mersea Road at 18:09:46 | Image 6: lone man walking towards The Hythe near GH Motorcycles at 16:38:33 |
| | |
| | |
| Image 7: lone man with a bag on his back walking towards The Hythe near GH Motorcycles at 17:08:45 | Image 8: lone man walking near Colchester Medical Centre in Wimpole Road, away from Hythe Hill at 17:42:35 |
| | |
| | |
| Image 9: lone man walking near Colchester Medical Centre in Wimpole Road, away from Hythe Hill at 17:51:54 | Image 10: lone man walking near Foundry Arms pub at 17:19:06 |
| | |
| | |
| Image 11: person walking near New Town Tavern, Kendall Road at 17:39:43 | |
| | |