CCTV Released After Harlow Attempted Murder
14 April 2015, 11:52 | Updated: 14 April 2015, 11:54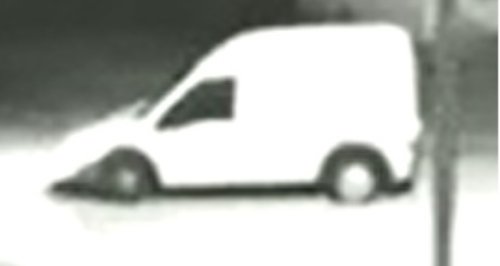 Police investigating an attempted murder in Harlow have put out a CCTV image of a van they think could have been used by the suspects.
A man in his 50s and his son - a man in his 20s - were left with 'horrific injuries' after being attacked in their own home with a claw hammer and meat cleaver last month.
Two men and a woman forced their way into the house in Tunnmeade just after 9pm on the 25th March.
During a struggle the man in his 50s was left numerous deep wounds to his head, arms and legs.
He was then forced to go upstairs and hand over £1,600 in £20 notes.
Whilst upstairs the suspects attacked the second victim, using the weapons, cutting him to the bone on his back and breaking his collar bone.
Investigating officer Det Con Ryan Burgess of Harlow CID said: "This was a horrific attack. Both victims suffered horrendous injuries and are lucky to be alive.
"We are keen to hear from anyone who may have been in the area around the time of the attack.
"The victims suffered considerable blood loss meaning that the two male suspects, who carried out the violence, and the van are likely to be covered in blood.
"One of the male suspects was struck on the head during the struggle so may have suffered swelling or blood loss himself.
"Thankfully violent crimes such as this are extremely rare. However we are keen to catch those responsible as soon as possible.
"If you know anything, please come forward to us so we can arrest these people and remove them from our streets."
The two men are now recovering - but continue to need hosptial treatment.
All three attackers are described as white and spoke with local accents.
The woman is described as aged between 18 and 22, slim, had long light coloured hair, was around 5ft 2 and wore a light coloured jacket, dark or black leggings and white or light coloured footwear.
One of the men was aged in his thirties, was balding or had short shaved hair, was of medium build and about 5ft 8ins tall and wore a dark top.
The second man, was also about 5ft 8ins tall, of medium build and wore a white coloured top.
In CCTV footage the van does not appear to have any sign writing or roof bars. It is a "first generation" Ford Transit Connect and is similar in design to the one pictured.
In the aftermath of the attack, which happened just after 9pm on Wednesday March 25, CCTV footage shows the van remaining in the area. It leaves at around 9.20pm as emergency vehicles arrive.