Chelmsford Chippie Loses Parking Charge Appeal Bid
4 November 2015, 10:12 | Updated: 4 November 2015, 10:42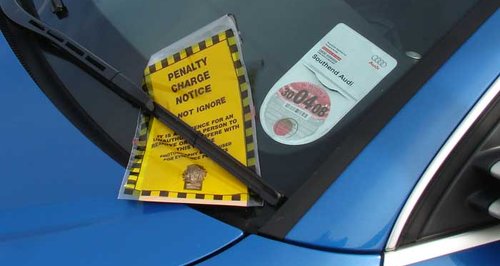 A chip shop owner from Chelmsford has lost an appeal at the UK's highest court over parking charges.
Barry Beavis, 47, launched legal action against private car park operators after he was charged £85 for overstaying his allotted two hours of free parking by nearly an hour.

He previously had his challenge dismissed at a county court and the Court of Appeal, and today suffered a further defeat at the Supreme Court.

Mr Beavis, who owns The Happy Haddock chip shop in Billericay, Essex, was charged by management company ParkingEye after overstaying the permitted period of free parking at the Riverside Retail Park car park in Chelmsford in April 2013.

ParkingEye says its charges are ''fair, reasonable and legally enforceable''.
After the decision was announced, Mr Beavis said: "What the heck are we going to do about this?

"What is excessive? That's my question. It seems to me we are just going to be back in court in a couple of years time when the parking companies put their charges up to £250 because they are always pushing the boundaries.

"Boundaries should be set by Parliament, '' he added.

Steve Gooding, director of the RAC Foundation, said: "This ruling has given a licence for ticketers to take over from where the clampers left off.

"The judges have said that penalty charges should not be excessive but without giving any clear indication of what excessive might be.

"This opens the door for parking companies to increase their penalty demands and leaves the onus on motorists to fight sky-high charges on a case-by-case basis.

"The last hope for motorists is that Parliament will now do what it should have done back in 2012 when it outlawed clamping on private land and set reasonable limits for these charges.

"The DVLA releases several million vehicle records to private parking companies annually and the number is rising year on year. As the custodian of our data it should be taking more interest in how it is used.

"Parking should be a small, inconsequential part of our lives. Today's judgment means it will continue to stir up totally disproportionate anxiety and anger.''
Derek Millard-Smith, a consumer and driving law specialist with JMW Solicitors, who advises ParkingEye, described the Supreme Court decision as "an entirely sensible ruling''.

He said: "This case was never about allowing parking companies to unfairly penalise drivers. The issue at the heart of this process was whether measures taken to deter those abusing parking facilities, provided for people wishing to use shops and business premises, was justifiable in law.

"The Supreme Court has decided that a penalty charge similar to the one levied against Mr Beavis was not excessive or unfair and, in fact, was necessary to protect the great majority of motorists who abide by parking rules.''

The British Parking Association (BPA) welcomed the ruling. Chief executive Patrick Troy said: "While this decision helps to clarify the law around private parking there needs to be a broader review of the private parking sector.

"We believe that government should establish a standard setting body with an independent scrutiny board, which will deliver a single code of practice and a single independent appeals service for consumers. In this way all parties can be treated fairly.''