Chelmsford Leisure Centre Work Begins
1 August 2017, 10:50 | Updated: 1 August 2017, 10:52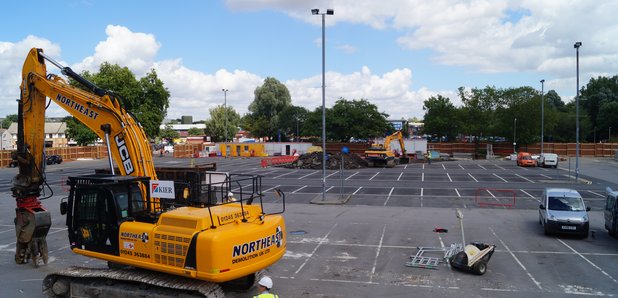 Chelmsford City Council has announced that construction of its new leisure complex has begun.
The Pick Everard designed leisure centre is being built on the site of the existing Riverside Ice & Leisure Centre, but closer to Victoria Road.
Being built by Kier, the new leisure centre will house a modern 25m x 10 lane swimming pool with moveable floors, a boom to sub-divide the pool as required and capacity for 300 spectators, along with two further teaching and fun pools and a flume.
The new complex will also boast health and fitness studios, a 120-station gym, a soft play area and crèche, improved changing rooms and a more spacious river frontage café/restaurant. All the facilities are being designed to ensure easy access for people with disabilities.
Key features of the design include a spacious and welcoming reception foyer, new ice rink support accommodation and innovative first floor walkways which will link the new building to the existing sports hall and ice rink. The building will provide greater connection to the new Riverside developments with retail and a café/restaurant both accessible to centre customers and non-users.
The existing ice rink and sports hall will stay and will be refurbished as part of the scheme. During the building works the existing leisure centre will remain largely open. However, some of the car park will be closed and pathways will be temporarily re-routed to keep clear of construction activities.
To enable the building work to take place the main Riverside car park and Victoria Road entrance has now closed. The undercroft car park will remain open but can only be accessed from Waterloo Lane. A section of the riverside path will close in September. Signage will help you find your way around. A map showing where works will take place and alternative access routes can be found at: www.chelmsford.gov.uk/riversidedevelopment
If you aren't using the leisure centre, you are encouraged to park in one of the city's alternative car parks. Locations can be found at www.chelmsford.gov.uk/parking. Between 6am-2pm Monday-Friday and 6am-5pm Saturday-Sunday, the undercroft car park will be reserved for Leisure Centre customers only.
Chelmsford City Council's Cabinet Member for Leisure, Councillor Julia Jeapes, said "I am delighted to see construction work of our new leisure complex begin. Chelmsford's newest leisure centre will be an incredible addition to the ever-improving city centre. People heading into Chelmsford for a day out can now enjoy an abundance of shopping, dining, parks and activities for the whole family."
The contractors are expected to complete the build of the new facilities by December 2018 and following commissioning will be opening in January 2019. Until then, the Riverside leisure facilities will remain substantially open. For more information and regular updates on the Riverside redevelopment, please visit www.chelmsford.gov.uk/riversidedevelopment