Chelmsford Mum Sets Up Baby Loss Charity
9 October 2018, 16:05 | Updated: 9 October 2018, 16:27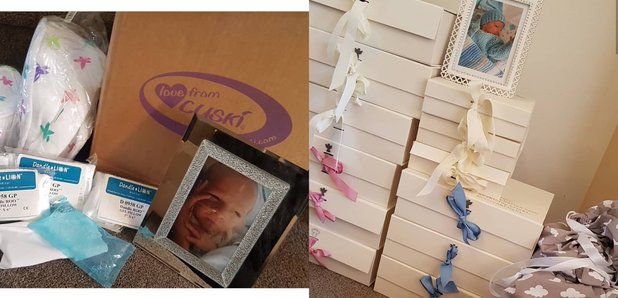 A mum from Chlemsford has started a charity after losing her baby at just 16 days old earlier this year, to help other families going through the same thing.
In the hope of providing some comfort, Sophie Ashton Hourigan, is raising money through "Kolbysfootprints" to create memory boxes and sibling bags to donate to Broomfield hospital and also go towards refurbishing the bereavement suite in the neo-natal unit at Addenbrooks Hospital. They've also already used some of the funds to donate a 'cuddle cot' to Addenbrookes.

The boxes allow parents to collect keepsakes like hand and footprints, moulds and boxes for whispers of hair.

Sophie's been speaking to Heart about her chairty as part of baby loss awareness week. She told us "As soon as you say goodbye to your baby... you've got such a physical pain, your arms physically ache and your chest is so heavy... you're waking up feeling that, you're going to bed feeling it. You have constant reminders of what will not be... you'll have school starters or nursery starters, playgroups, friends that may have been pregnant at the same time."

She's hoping to break the silence around baby loss telling us she's found "people would rather avoid it, not because they don't mean well but because they don't know what to say and they don't want to make you upset. The thing is, you are upset and nothing is going to change that, so to acknowledge it and you will build up stronger from that, is just the way forward. You have to learn and accept to live with the loss of your baby."

Talking about the sibling bags she's created for families at Broomfield hospital, she told Heart she came up with the idea as she and her partner didn't know how they'd tell their other son, his new little brother wasnt coming home: "Kody was 3 and a half at the time and we thought how are we going to explain to him that his little brother isn't coming home. So the sibling bag was created through our experience. It contains a book explaining death, a nice gentle way to tell children of any age and a comforting teddy as well."

Through fundraising events since March, they've already raised £8000 and are hoping to ge to the £10,000 mark by Kolby's 1st birthday.