Chelmsford Murder - Teenager Convicted
5 December 2018, 12:15 | Updated: 5 December 2018, 12:21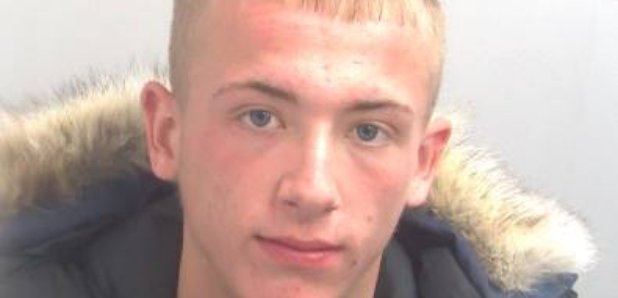 A teenager has been convicted of murder after shooting John Pordage and leaving him dying in the street.
Bradley Blundell (pictured) shot Mr Pordage outside at the Baddow Road BP in Chelmsford in the early hours of August 5 last year.

A court heard he was angered by flirtatious comments the victim or his friend were alleged to have made towards one of the teenager's friends, Ella Colgate.
One of the men was then alleged to have made a comment towards Blundell, sparking a confrontation in which he fired two shots, one of which hit Mr Pordage in the chest.

Blundell, then 17, fled the scene, leaving the 34-year-old dying in the street outside the BP garage near the Army and Navy roundabout in Baddow Road.

He and his friends drove to Maldon, where items of clothing were set alight on scrubland near Heybridge Rise.

He then went on the run and an extensive manhunt ensued. He handed himself in at an Amsterdam police station on March 31 this year and was detained under a European Arrest Warrant.

Blundell, now 19, of Cromwell Close, Boreham, was charged with murder, conspiracy to pervert the course of justice and handling stolen goods.

At a court hearing in July, he admitted handling stolen goods, which was in connection with a stolen motorbike that had been collected from Brentwood in the hours before the murder. He also admitted perverting the course of justice.

He was charged with a further count of conspiracy to pervert the course of justice in October after it emerged he had been having phone conversations from prison with a witness, Ella Colgate, about what she would say during the trial. Both had also tried to influence another witness about what to say.

Blundell stood trial at Woolwich Crown Court on Monday, November 12.

He was convicted today, Wednesday, December 5, of murder and conspiracy to pervert the course of justice.

Colgate, 18, of Aldridge Close, Chelmsford, was also charged with conspiracy to pervert the course of justice and was found guilty today.

Senior investigating officer Detective Chief Inspector Martin Pasmore said:
"Blundell is a dangerous young man who used extreme violence in reaction to what was a trivial matter and left a man dying in the street.

He was careful and calculated in how he planned his attempt to escape from justice. He sought the help of his associates to smuggle himself out of the country and went to great lengths to leave no trace of his movements.

Blundell tried to convince the jury he did not shoot John Pordage and fled because he was petrified of being arrested for a crime he did not commit.

But they have seen through his concoction of lies.

He has shown no remorse for the devastation he has caused to John's family.

Blundell and John Pordage did not know each other. They only came into contact because Blundell and his friends were getting petrol for a stolen motorbike and John happened to be at the same petrol station.

Most reasonable people would consider the verbal exchanges that took place as nothing more than banter. A reasonable person would have walked away from a potential confrontation. They wouldn't have shot someone in a rage.

My thoughts are very much with John's family and friends, and I thank them for their support throughout our investigation and the two trials that followed.

I can only imagine how devastating it is to lose a loved one in such a brutal way and I hope it will give them some small measure of comfort that they now have justice for John.

Colgate maybe very naive but her actions amounted to a serious offence. If we had not managed to uncover her actions and intention to lie, this case may have turned out differently and John's family would have not achieved justice for his loss."